Borowski, Tadeusz.  This Way for the Gas, Ladies and Gentlemen (Penguin Classics, 1992).
A Polish Christian survivor of Auschwitz, gives a devastating account of life in the Nazi concentration camp. From his stories of survival and man's inhuman treatment of his fellow man, we get a much more complete perspective of the many victims of the Nazi holocaust than is usually presented.
Bostwick, Marie.  River's Edge (Kensington, 2006).
In a Germany teetering on the brink of World War II, Elise Braun, motherless child of a career military officer, is an unwilling refugee. When her father realizes his country has fallen into the hands of tyrant he must defy at any cost, Elise is sent to live in America. An accomplished pianist whose only solace in this strange new land is her music, Elise cannot know how she will come to care for her adopted home in a New England village, how she will be tested when the men she loves most fight for opposing armies, or the price she will pay to forgive—and to find forgiveness.
Bouille, Pierre.  Bridge Over the River Kwai (Presidio Press, Reprint, 2007).
1942: Boldly advancing through Asia, the Japanese need a train route from Burma going north. In a prison camp, British POWs are forced into labor. The bridge they build will become a symbol of service and survival to one prisoner, Colonel Nicholson, a proud perfectionist. Pitted against the warden, Colonel Saito, Nicholson will nevertheless, out of a distorted sense of duty, aid his enemy. While on the outside, as the Allies race to destroy the bridge, Nicholson must decide which will be the first casualty: his patriotism or his pride.
Bowen, Elizabeth.  Heat of the Day (Anchor, 2002).
In The Heat of the Day, Elizabeth Bowen brilliantly recreates the tense and dangerous atmosphere of London during the bombing raids of World War II.

Many people have fled the city, and those who stayed behind find themselves thrown together in an odd intimacy born of crisis. Stella Rodney is one of those who chose to stay. But for her, the sense of impending catastrophe becomes acutely personal when she discovers that her lover, Robert, is suspected of selling secrets to the enemy, and that the man who is following him wants Stella herself as the price of his silence. Caught between these two men, not sure whom to believe, Stella finds her world crumbling as she learns how little we can truly know of those around us.
Bowman, P.  Beach Red (London: Michael Joseph, 1946).

Beach Red is the history of a single hour in the life of a solider in the morning of a Pacific Island invasion. This is a novel in prose, each 60 line chapter the equivalent of one minute of time.
Boyd, Bill.  A Rendezvous with Death (Elton-Wolf Publishing, 2003).
On the western bank of the Rhine in 1945, an American-issue bullet kills a young US soldier. Beside him lies the dead body of a beautiful, mysterious woman. Second Lieutenant Charles Donnelly is asked to conduct an unofficial investigation and in the process discovers the dark secrets within Task Force Coleman.  A Rendezvous with Death, W.Y. Boyd's fifth novel, evokes the sights, the sounds, and the horror of World War II Europe. From its tortured landscape to its fevered battles, Boyd depicts the Allied encroach into Germany as only someone with first-hand experience can. Told with a sense of you-are-there, this tale of idealism, deception, honor, and first love will keep readers spellbound right up to its shocking conclusion.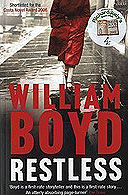 Boyd, William.  Restless (Bloomsbury USA, 2007).
Someone is trying to kill Sally Gilmartin. It is the summer of 1976, and the only person she can trust is her daughter, Ruth, a young single mother struggling with her own demons. Now Sally must tell her daughter the truth: She is actually Eva Delectorskaya, a Russian émigré recruited for the British Secret Service in 1939.  Soon Ruth is drawn deeper into the astonishing events of her mother's past, including her work in New York City manipulating the press in order to shift public sentiment toward U.S. involvement in Second World War and her dangerous love affair with another spy. Ruth also discovers that her mother has one final assignment. This time, though, Eva can't do it alone—she needs Ruth's help.  Full of tension and drama, emotion and history, this is storytelling at its finest.
Brady, James.  A Warnimg of War (St. Martin's Griffin, 2003).
From bestselling author James Brady comes a rousing U.S. Marine Corps novel set in China at the onset of U.S. involvement in World War II. A New York Times bestseller, Warning of War tells the story of a young marine captain who undertakes a daring rescue. Traveling through the countryside and into the Gobi desert, he and his men face ruthless bandits, freezing weather, and enemy troops led by a Japanese commander hell-bent on their destruction. James Brady dazzles us once again with a stunning and unflinching look at America at war. Warning of War is a moving tribute to sheer courage, determination, and Marine Corps discipline, and is a wonderful celebration of America in one of its darkest but finest hours.
Bragg, Melvyn.  Crossing the Line (Arcade Publishing, 2005).
Bragg's massive trilogy of his hometown in Cumbria, northern England, steers to a close as the torch is passed from WWII hero Sam Richardson to his son Joe. In 1955, Wigton is a quiet town, animated by hard work, gossip and changes of weather. Joe spends his days in school, nights working in his parents' pub and most of his free time thinking about his neighbor Lizzie. When Lizzie is sexually assaulted by some local roughnecks, the men are brutally beaten, and Lizzie is shipped off to be cared for by Liverpool relatives. As Joe grows older, his choices become starker; as he grows serious with a schoolmate named Rachel, opportunity knocks in the form of Oxford. Bragg has returned to the subject of Wigton many times over his long career as a novelist and BBC commentator, and his deep affection and knowledge of the place give strength to this coming-of-age story. As in The Soldier's Return and A Son of War, Bragg's prose is straightforward and unadorned, allowing only the occasional literary flourish, with a tendency toward understatement that is as precise as it is convincing. Devoted Anglophiles in particular will find much to appreciate in this unhurried examination of postwar English life. (Publisher's Weekly)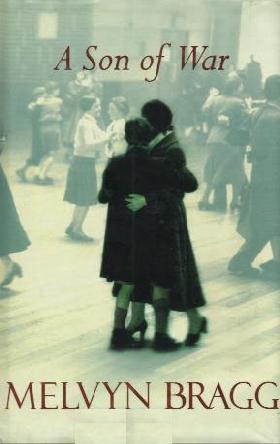 Bragg, Melvyn.  Son of War (Arcade Publishing, 2003).
This is the second volume of a trilogy that began with The Soldier's Return, about a family in a little town in Cumbria, in the northwest of England, in the years following WWII; the trilogy has been heralded in Bragg's native Britain as his masterwork. It is certainly, in its first two volumes, a highly impressive achievement, spinning an utterly convincing tale of small lives that embrace large issues of faith, courage, endurance and aspiration. Sam Richardson, a thoughtful working man whose life has been enlarged by his war experience in Burma, continues to find it difficult to settle back into Wigton, and eventually finds independence in taking over an old pub and bringing it back to life. This is hard on his wife, Ellen, whose dream of a more intimate home has to be given up; she has to realize, too, that her half-brother Colin, who suddenly surfaces with news of her cherished but mysterious father but is shifty and evasive, is not the kind of man Sam can tolerate. And young Joe, their son, entering a painful adolescence beset by nameless fears, has to straddle the disparate worlds and demands of his mother and father, trying to be at once tough and tender. Bragg has a remarkable knack for entering into the hearts and minds of his characters, and his understanding of their milieu, still an almost feudal one in many respects even in the mid-20th century, is acute. This is an old-fashioned book in the best sense: sympathetic, leisurely, absorbing and warmly believable.
Bragg, Melvyn.  The Soldier's Return (Arcade Publishing, 2003).
When Sam Richardson returns in 1946 from the Forgotten War in Burma to his hometown in northern England, he finds little changed. The war has changed him, however, broadening his horizons but also leaving him deeply scarred with traumatic, often hellish, memories. In addition, his six-year-old son Joe barely remembers him, and his wife has gained a new sense of independence from her wartime job. As all three strive to adjust, the bonds of love and loyalty are stretched to the breaking point in this taut and profoundly moving novel that captures what millions of families experienced in the aftermath of World War II.
Brennan, William.  Murphy's War (PublishAmerica, 2006).
In the days following the attack on Pearl Harbor, Tom Murphy, a newly minted army lawyer, finds himself in the middle of the government's security program to remove all ethnic Japanese—including children, the aged and infirm, and American citizens—from their homes on the West Coast to internment camps around the country. A tiny minority of citizens and a small number of federal officials attempt to resist the nativist pressure even as racist tension poisons the air. Murphy and his colleagues wrestle with the legal, ethical and moral questions as the federal government is torn apart by the conflict between justice and national security. Friends find themselves on opposite sides of the issue, and Tom's transformation from a young fast-track attorney to a champion of the internees is brought about at great personal cost.
Brinkley, William.  Don't Go Near the Water (U.S. Naval Institute, 2005).
Set on a remote Pacific island during the waning days of the World War II, this classic humor novel about the public relations sector of the Navy follows the adventures of a group of young officers, commissioned without the corrupting influence of any intervening naval training, as they bravely face wartime adversities with comic ingenuity. The colorful cast of characters and absurd situations combine to create a rousing entertainment that will appeal to everyone who enjoys the high-spirited side of naval service.
Brown, Harry.  Of Love and War (Chick Springs Publishing, 1999).
From the Louisiana Maneuvers to the bombing of Pearl Harbor, Of Love and War takes us behind the scenes where politicians plot and, generals jockey for power, playing a deadly game of chess with humans lives. We experience the events that catapulted the U.S. into World II though the eyes of the characters whose lives, like millions of other Americans', were changed on that infamous Sunday.
Brown, Harry.  A Walk in the Sun (Bison Books, 1998).
With A Walk in the Sun, Harry Brown tells an understated yet gripping and realistic tale of the randomness and impersonal nature of combat. In the Allied landings at Salerno on the Italian peninsula during World War II, a fictional platoon loses its lieutenant and senior sergeant to enemy fire, regroups inland to decide what to do, and soon loses its next-senior NCO to battle fatigue. This short but intense novel follows the remaining members of the platoon as they attempt to ascertain their mission and carry it out based on the only guide they have, a map found on the lieutenant's body. The day unfolds from there—as simple as a walk in the sun, as simple, really, as war sometimes is. Some make it, some don't, and those who don't aren't always dead. Brown's spare narration echoes the gritty realities his characters face and provides an unflinching portrayal of the uncertainty of war.
Buckley, William, Jr.  Nuremberg: The Reckoning (Harvest Books, 2003).
Sebastian Reinhardt, a young German-American, is yanked from routine army duty in America to serve as an interpreter at Nuremberg's Palace of Justice in 1945. He hears the stories of the infamous Nazi killers and war makers, who face prosecutors determined to bring them to justice, and encounters the towering figures of twentieth-century legal, political, and military history, among them Justice Robert Jackson, Albert Speer, Hermann Goering, and the dark, untried shadow of Adolf Hitler. As the trial unfolds, Sebastian must come to terms with his family legacy and national identity.
With his renowned authority and audacity, William F. Buckley Jr. creates a riveting thriller, taking the reader through unforgettable scenes of treachery and vengeance, love and hatred, and the struggle for justice found in a hangman's noose.
Bull, Bartle.  The Devil's Oasis (Da Capo Press, 2002).
"It is 1942, and civilization as the world knows it teeters on its edge. Nazi Germany stands at the height of its power. In North Africa the brilliant General Rommel's panzers threaten the Suez Canal, the oil fields of the Middle East, and the trade route to Asia. To win Egypt, though, Rommel must first take the port of Tobruk and destroy the British fortress of Bir Hakeim. There, against the massive force of Rommel's Afrika Korps, a young English hussar named Wellington Rider fights beside the French Foreign Legion." "Rider's father, Anton, is now a desert commando engaged in obliterating Nazi air bases and petrol dumps. Not only has Anton's old friend Ernst von Decken, a German soldier of fortune, meanwhile become the enemy, but also Anton's estranged wife has entered into an affair with a Frenchman who supports Rommel's campaign. Alliances shift, loyalties deceive, espionage thrives, and danger lies as much in the dark corners of Cairo as it does in the desert night. And at a barge on the Nile, at the Cataract Cafe, under the watchful eye of its proprietor, the enigmatic Goan dwarf Olivio Alavedo, Egypt frames its destiny."