Golden, Arthur.  Memoirs of a Geisha (Knopf Publishing Group, 2005).
An epic on an intimate scale, Memoirs of a Geisha takes the reader behind the rice-paper screens of the geisha house to a vanished floating world of beauty and cruelty, from a poor fishing village in 1929 to the decadence of 1940s Kyoto, through the chaos of World War II to the towers of the Waldorf Astoria Hotel, where the gray-eyed geisha Sayuri unfolds the remarkable story of her life.  
Grant, Richard.  Another Green World (Knopf Publishing Group, 2006).
In 1929, at an international youth summit in the Weimar Republic, four young Americans meet various German counterparts on a lovely, remote mountaintop; here they talk earnestly late into the night, quarrel, fall in love and find themselves drawn into political ideals and intrigues that will soon engulf Europe and plunge the world into mayhem. And the fates forged then envelop them again in 1944, when Ingo Miller is running a failing German restaurant in Washington, D.C., and Marty Panich is pushing pencils for the Roosevelt administration. Childhood friends now estranged, they are suddenly reunited when their old friend Isaac Tadziewski—a runaway from Brooklyn back then, and now caught up in the bloody Polish resistance—obtains incendiary information about the Final Solution. The fourth, Sammy Butler, a left-wing journalist riding into the Reich with the Red Army, also learns of Issac's discovery and embarks on a shadowy quest of his own.
Grass, Gunter.  The Tin Drum (Vintage, New edition, 2005).
Acclaimed as the greatest German novel written since the end of World War II, The Tin Drum is the autobiography of thirty-year-old Oskar Matzerath, who has lived through the long Nazi nightmare and who, as the novel begins, is being held in a mental institution.  Willfully stunting his growth at three feet for many years, wielding his tin drum and piercing scream as anarchistic weapons, he provides a profound yet hilarious perspective on both German history and the human condition in the modern world.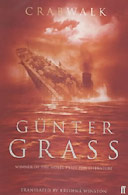 Grass, Gunter.  Crabwalk (Harvest Books, 2004).
Hailed by critics and readers alike as Günter Grass's best book since The Tin Drum, Crabwalk is an engrossing account of the sinking of the Wilhelm Gustloff and a critical meditation on Germany's struggle with its wartime memories. The Gustloff, a German cruise ship turned refugee carrier, was attacked by a Soviet submarine in January 1945. Some nine thousand people went down in the Baltic Sea, making it the deadliest maritime disaster of all time. Born to an unwed mother on a lifeboat the night of the attack, Paul Pokriefke is a middle-aged journalist trying to piece together the tragic events. For his teenage son, who dabbles in the dark, far-right corners of the Internet, the Gustloff embodies the denial of Germany's suffering. Crabwalk is at once a captivating tale of a tragedy at sea and a fearless examination of the ways different generations of Germans now view their past.
Grass, Gunter.  Dog Years (Harvest Books, 1989).
A novel set in three parts, beginning in the 1920s and ending in the 1950s, that follows the lives of two friends from the prewar years in Germany through an apocalyptic period and its startling aftermath. Translated by Ralph Manheim. 
Greene, Bette.  Summer of the German Soldier (Puffin, 2006).
Minutes before the train pulled into the station in Jenkinsville, Arkansas, Patty Bergen knew something exciting was going to happen. But she never could have imagined that her summer would be so memorable. German prisoners of war have arrived to make their new home in the prison camp in Jenkinsville. To the rest of her town, these prisoners are only Nazis. But to Patty, a young Jewish girl with a turbulent home life, one boy in particular becomes an unlikely friend. Anton relates to Patty in ways that her mother and father never can. But when their forbidden relationship is discovered, will Patty risk her family and town for the understanding and love of one boy?
Griffin, W.E.B. Secret Honor (Jove, 2000).
In Wolf's Lair, a German general works toward the assassination of Adolf Hitler. In Buenos Aires, the general's son, code-named Galahad, falls under suspicion by the SS after a Nazi operation suddenly goes bad. In the middle of it all is OSS agent Cletus Frade, who knows the identity of father and son and what they will do... if they can survive that long. For not only are SS and Abwehr officers hot on their trails in both countries, but the OSS has branded Frade a rogue agent and is determined to shake the truth from him, at whatever cost. If Frade can't figure a way to hold them all off, then the futures of all three men may be very short indeed.
Griffin, W.E.B.  The Secret Warriors (Jove, 1999).
Washington D.C., 1942. With the help of Charles A. Lindbergh, ace OSS pilot Richard Canidy sets up an air maneuver that will drop agents into the Belgian Congo to smuggle out uranium ore essential to the arms race. But this time, Canidy is not in the saddle; he's the backup pilot. And though he's not used to waiting for something to go wrong, he knows that it will.

Griffin, W.E.B.  The Last Heroes (Jove, 1998).
In mid-1941, fun-loving Richard Canidy and straight-arrow Edwin Bitter are hotshot pilot instructors at the Navy's air station in Pensacola. With minimal prompting, they soon volunteer to serve with the so-called Flying Tigers. Before heading off (on a slow boat) to China, however, these two well-connected friends find time to join the social whirl in Washington, where crafty FDR has detailed Wild Bill Donovan to create an Office of Strategic Services. Shortly after arriving in Southeast Asia, Dick becomes an ace, downing five Japanese planes in a single sortie. The very same day, he's whisked away on orders from the White House. Meantime, the US (now at war against the Axis powers) plans to build an atomic bomb but lacks a secure source of uraninite. Which is where Dick comes in. His prep-school chum Eric Fulmar (the son of an American film actress and a German industrialist) is dodging the draft boards of both nations by hiding out in North Africa. Operating under cover from the US Embassy in Morocco, Dick is to enlist the aid of Fulmar in abducting a French mining engineer with badly needed information on a vital ore cache in the Belgian Congo. To make the mission more challenging, the amateur agents must carry out their assignment on a split-second schedule (to make an offshore rendezvous with a submarine) and get their man away without arousing the suspicions of either the Nazi or Vichy forces controlling the Maghreb coast. A rousing to-the-ends-of-the-earth start for an absorbing narrative takeout on the shadow warriors who handled some decidedly odd jobs in aid of the Allied cause.  (Kirkus Review)
Griffin, W.E.B. The Fighting Agent. (New York: G.P. Putnam, 1987).
This is the fourth novel in the "Men at War" series about the OSS during World War II. This particular novel takes place in 1943 in the Philippines, centering on the American guerrilla army battling the Japanese after the fall of Bataan. 
Grimbert, Philippe.  Memory (Simon and Schuster, 2008).
In this slim, bleak second novel, French psychoanalyst Grimbert fictionalizes his wrenching family history, hidden for much of his youth. Born a sickly child in post-WWII Paris, Grimbert's narrator, Philippe Grimbert, develops an obsessive fascination with the lithe, muscular bodies and athletic prowess of his beautiful parents. His fantasy life extends to an imaginary brother who at first offers comfort and protection, but soon becomes a way for the young narrator to vent his frustration with his own weakness and pallor. At 15, a violent altercation with a schoolroom bully over a lesson on Holocaust victims results in the revelation of his origins: Grimbert, the narrator's family's name, was once Grinberg, and the story of his parents' romantic retreat to the country during the war is shattered by a heartbreaking story of betrayal and sacrifice in occupied France. For Grimbert, the aftermath of WWII forced survivors into prisons of their own memories and denial, bound together by an impossible grief. The story is powerful and gripping, but the juxtaposition between young Philippe's fantasy life and adult wartime realities is underdeveloped. Readers will share in the catharsis of Grimbert's revelations, but may feel a lingering emptiness once his family's secrets have been fully purged. (Publisher's Weekly)
Grossman, Paul.  Sleepwalkers (St. Martin's Press, 2010).
 Berlin, 1932.  In the final weeks of the Weimar Republic, as Hitler and his National Socialist party angle to assume control of Germany, beautiful girls are seen sleepwalking through the streets.  Then, a young woman of mysterious origin, with her legs bizarrely deformed, is pulled dead from the Havel River.  Willi Kraus, a high ranking detective in Berlin's police force, begins a murder investigation.
       
A decorated World War I hero and the nation's most famous detective, Willi also is a Jew.   Despite his elite status in the criminal police, he is disturbed by the direction Germany is taking.  Working urgently to identify the dead woman and solve the murder, Willi finds his superiors diverting him at every turn, and is forced to waste precious time on a politically-sensitive missing person case.  Colleagues seem to avoid him; a man on a streetcar stops him from reading a newspaper over his shoulder; he is uncomfortably aware of being watched.  But he persists, and soon enters the dangerous Berlin underworld of debauched nightclubs, prostitutes with secrets to hide, and a hypnotist with troubling connections.
               
As he moves through darkness closer to the truth, Willi begins to understand that much more than the solution to a murder is at stake. What he discovers will mean that his life, the lives of his friends and family, and Germany itself will never be the same. The Sleepwalkers is a powerful, dramatic debut thriller of a nation's unstoppable corruption, featuring a good man trapped between his duty to serve and his grave doubts about what, and who, he serves.  
Grossman, David.  See, Under Love (Picador, 2002).
In this powerful novel by one of Israel's most prominent writers, Momik, the only child of Holocaust survivors, grows up in the shadow of his parents' history. Determined to exorcise the Nazi 'beast' from their shattered lives and prepare for a second holocaust he knows is coming, Momik increasingly shields himself from all feeling and attachment. But through the stories his great-uncle tells him-the same stories he told the commandant of a Nazi concentration camp-Momik, too, becomes 'infected with humanity.' Grossman's masterly fusing of vision, thought, and emotion makes See Under: Love a luminously imaginative and profoundly affecting work.
Grossman, Vasily.  Life and Fate (Vintage Books, 2006).
Suppressed by the KGB, Life and Fate is a rich and vivid account of what the Second World War meant to the Soviet Union. On its completion in 1960, Life and Fate was suppressed by the KGB. Twenty years later, the novel was smuggled out of the Soviet Union on microfilm. At the centre of this epic novel looms the battle of Stalingrad. Within a world torn apart by ideological tyranny and war, Grossman's characters must work out their destinies. Chief among these are the members of the Shaposhnikov family – Lyudmila, a mother destroyed by grief for her dead son; Viktor, her scientist-husband who falls victim to anti-semitism; and Yevgenia, forced to choose between her love for the courageous tank-commander Novikov and her duty to her former husband. Life and Fate is one of the great Russian novels of the 20th century, and the richest and most vivid account there is of what the Second World War meant to the Soviet Union.
Gutcheon, Beth.  Leeway Cottage (HarperCollins Publishers, 2006).
In April 1940, as the Nazis march into Denmark, Sydney Brant, a wealthy girl of the Dundee summer colony, marries a gifted Danish pianist, Laurus Moss. They believe they are well matched, as young lovers do, but Laurus's beloved family is in Copenhagen, hostage to what the fortunes of Hitler's war will bring. By the time the war is over, Laurus's family has played an active role in Denmark's grassroots rescue of virtually all seven thousand of the country's Jews. Meanwhile, in America, Sydney has led a group knitting for the war effort, and had a baby.
Guterson, David.  Snow Falling on Cedars (Vintage, 1995).
San Piedro Island, north of Puget Sound, is a place so isolated that no one who lives there can afford to make enemies.  But in 1954 a local fisherman is found suspiciously drowned, and a Japanese American named Kabuo Miyamoto is charged with his murder.  In the course of the ensuing trial, it becomes clear that what is at stake is more than a man's guilt. For on San Pedro, memory grows as thickly as cedar trees and the fields of ripe strawberries--memories of a charmed love affair between a white boy and the Japanese girl who grew up to become Kabuo's wife; memories of land desired, paid for, and lost. Above all, San Piedro is haunted by the memory of what happened to its Japanese residents during World War II, when an entire community was sent into exile while its neighbors watched.  Gripping, tragic, and densely atmospheric, Snow Falling on Cedars is a masterpiece of suspense-- one that leaves us shaken and changed.