Hamamura, John.  Color of the Sea (St. Martin's Press, 2006).
Growing up in a time between wars, Sam Hamada finds that the culture of his native Japan is never far from his heart. Sam is rapidly learning the code of the samurai in the late 1930s on the lush Hawaiian Islands, where he is slowly coming into his own as a son and a man.  But after Sam strikes out for California where he meets Keiko, the beautiful young woman destined to be the love of his life, he faces crushing disappointment - Keiko's parents take her back to Japan, forcing Keiko to endure their attempts to arrange her marriage. It is a trial complicated by how the Japanese perceive her—as too Americanized to be a proper Japanese wife and mother - and its pain is compounded by the Japanese attack on Pearl Harbor, which ignites the war that instantly taints Sam, Keiko, and their friends and family as enemies of the state." Sam himself is most caught between cultures when, impressed by his knowledge of Japanese, the U.S. Army drafts and then promotes him, sending him on a secret mission into a wartime world of madness where he faces the very real risk of encountering his own brother in combat.  
From the tragedies of the camps through to the bombing of Hiroshima, where Sam's mother and siblings live, Sam's very identity both puts his life at risk and provides the only reserve from which he can pull to survive. In this beautifully written historical epic about a boy in search of manhood, a girl in search of truth, and two peoples divided by war, Sam must draw upon his training, his past, and everything he has learned if he's ever to span his two cultures and see Keiko, or his family, again.
Harington, Donald.  When Angels Rest (Toby Press, 2005).
During World War II, real news is a rare commodity in the hamlet of Stay More, Arkansas. But twelve-year-old Dawny - inspired by his hero Ernie Pyle - finds enough local color to keep the townsfolk reading his weekly newspaper, The Stay Morning Star. Dawny reports on the war between the 'Allies' and the 'Axis'; two roving bands of boys and girls fighting with sticks and spears, competing in scrap drives and verbal jousts. But the tenor of these games changes as developments bring the world's war closer to home: the crackle of the town's first radio delivers frightening news from the outside world to the isolated village, and a native son dies on Iwo Jima. For the first time ever, an airplane darkens the skies over Stay More, and soldiers occupy the remote hills in training for an invasion of Japan. As the ways of outsiders creep into the small town's routines, the texture of rural life is irrevocably changed.
Harris, Joanne.  Five Quarters of the Orange (HarperCollins, 2007).
Returning to the small Loire village of her childhood, Framboise Dartigen is relived when no one recognizes her. Decades earlier, during the German occupation, her family was driven away because of a tragedy that still haunts the town. Framboise has come back to run a little cafe serving the recipes her mother recorded in a scrapbook. But when her cooking receives national attention, her anonymity begins to shatter. Seeking answers, Framboise begins to see ther her mother's scrapbook is more than it seems. Hidden among the recipes for crepes and liquors are clues that will lead Framboise to the truth of long ago.
Harris, Robert.  Enigma (Arrow, 2001).
A gripping World War II mystery novel with a cryptographic twist, Enigma's hero is Tom Jericho, a brilliant British mathematician working as a member of the team struggling to crack the Nazi Enigma code. Jericho's own struggles include nerve-wracking mental labor, the mysterious disappearance of a former girlfriend, the suspicions of his co-workers within the paranoid high-security project, and the certainty that someone close to him, perhaps the missing girl, is a Nazi spy. The plot is pure fiction but the historical background, Alan Turing's famous wartime computing project that cracked the German U-boat communications code, is real and accurately portrayed.
Harris, Robert.  Fatherland (HarperTorch, 1993).
It is twenty years after Nazi Germany's triumphant victory in World War II and the entire country is preparing for the grand celebration of the Fuhrer's seventy-fifth birthday, as well as the imminent peacemaking visit from President Kennedy.  Meanwhile, Berlin Detective Xavier March, a disillusioned but talented investigation of a corpse washed up on the shore of a lake. When a dead man turns out to be a high-ranking Nazi commander, the Gestapo orders March off the case immediately. Suddenly other unrelated deaths are anything but, routine. Now obsessed by the case, March teams up with a beautiful, young American journalist and starts asking questions...dangerous questions. What they uncover is a terrifying and long-concealed conspiracy of such astounding and mind-numbing terror that is it certain to spell the end of the Third Reich -- if they can live long enough to tell the world about it.
Hassel, Sven.  Assignment Gestapo (Cassell Military, New edition, 2007).
The Washington Post calls Sven Hassel "a brilliant storyteller," and his series of novels about life in Hitler's army have sold in the millions. In this wartime adventure, his cast of characters is caught up with the "Disciplinary Regiment," a tank regiment that doesn't actually have a tank to its name. Consisting of a bunch of hardened killers dressed in filthy rags and stinking to high heaven, they're engaged in fighting a brutal battle against the Russians. Then suddenly the orders change: they're sent to Hamburg, where their next assignment will be guard duty for the bestial Gestapo.
Hassel, Sven.  Blitzfreeze (Cassell Military, New edition, 2007).
The Fuhrer's commands were simple—forward to Moscow! And so the mighty Panzer regiments thundered into action - killing, raping, and burning their way across the great wastes of Russia... But this was to be the bloodiest of all Hitler's wars—a war where Russian infantrymen threw themselves before the oncoming tanks, where women fought as savagely as men, where German guns killed Germans and Russians alike, mangling them indiscriminately into tattered hunks of meat. And finally Porta, Tiny, Barcelona, all of them - caring nothing for who should win the war—thinking only of their own survival - began the long retreat - back through the corpse-littered plains where blood and bodies were already frozen beneath the winter ice.
Hassel, Sven.  March Battalion (Cassell Military, New edition, 2007).
Into the screaming inferno of the Russian Front the Tank Battalions of Hitler's Penal Regiments were thrown. That was no surprise: these soldiers were pure cannon fodder to the German High Command—men whose lives were considered expendable. And because they were treated like animals, they also learned to live like animals. They stole and cheated in the manner of beasts, and died brutally and bloodily, fighting not only the enemy, but each other.  Bestselling author Sven Hassel, whose World War II themed novels have sold more than 52 million copies, tells the gripping story of the soldiers sacrificed in the Fuhrer's Russian Offensive.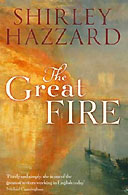 Hazzard, Shirley.  The Great Fire (Farrar, Straus and Giroux, 2003).
The year is 1947. The great fire of the Second World War has convulsed Europe and Asia. In its wake, Aldred Leith, an acclaimed hero of the conflict, has spent two years in China at work on an account of world-transforming change there. Son of a famed and sexually ruthless novelist, Leith begins to resist his own self-sufficiency, nurtured by war. Peter Exley, another veteran and an art historian by training, is prosecuting war crimes committed by the Japanese. Both men have narrowly escaped death in battle, and Leith saved Exley's life. The men have maintained long-distance friendship in a postwar loneliness that haunts them both, and which has swallowed Exley whole. Now in their thirties, with their youth behind them and their world in ruins, both must invent the future and retrieve a private humanity. 
Arriving in Occupied Japan to record the effects of the bomb at Hiroshima, Leith meets Benedict and Helen Driscoll, the Australian son and daughter of a tyrannical medical administrator. Benedict, at twenty, is doomed by a rare degenerative disease. Helen, still younger, is inseparable from her brother. Precocious, brilliant, sensitive, at home in the books they read together, these two have been, in Leith's words, delivered by literature. The young people capture Leith's sympathy; indeed, he finds himself struggling with his attraction to this girl whose feelings are as intense as his own and from whom he will soon be fatefully parted. 
Heggen, Thomas.  Mr. Roberts (Pocket Books, 22nd Printing, 1955).
Tells the story of a group of sailors stationed aboard a Navy cargo ship in one of the back islands of the Pacific during World War II, focusing on the character of Lieutenant Roberts, a young man who is anxious to really become involved in the war.
Hegi, Ursula.  Stones from the River (Simon & Schuster, 1997).
Stones from the River is a daring, dramatic and complex novel of life in Germany. It is set in Burgdorf, a small fictional German town, between 1915 and 1951. The protagonist is Trudi Montag, a Zwerg—the German word for dwarf woman. As a dwarf she is set apart, the outsider whose physical "otherness" has a corollary in her refusal to be a part of Burgdorf's silent complicity during and after World War II. Trudi establishes her status and power, not through beauty, marriage, or motherhood, but rather as the town's librarian and relentless collector of stories.  Through Trudi's unblinking eyes, we witness the growing impact of Nazism on the ordinary townsfolk of Burgdorf as they are thrust on to a larger moral stage and forced to make choices that will forever mark their lives. Stones from the River is a story of secrets, parceled out masterfully by Trudi—and by Ursula Hegi—as they reveal the truth about living through unspeakable times.
Heinrich, Will.  Cross of Iron (Cassell Military, New edition, 1999).
Cross Of Iron is the thrilling story of a German platoon cut off far behind Russian lines in the second half of World War II. A resourceful and cynical commander somehow manages to coax his men through the bitter hand-to-hand fighting in forests, trenches and city streets until eventually they regain the German lines. But safety is only temporary. After the tension of waiting for the last overwhelming Russian advance the platoon is forced into futile counter-attacks and murderous house-to-house fighting until its final decimation becomes inevitable. A modern classic of war fiction both as a book and a film, this is a strikingly realistic story of action on the Eastern Front, where the grimness of combat seems to have neither pity nor end.
Heller, Joseph.  Catch 22 (New York: Simon and Schuster, Classic Edition, 1999).
Catch-22 is one of this century's greatest works of American literature. First published m 1961, Joseph Heller's profound and compelling novel has appeared on nearly every list of must read fiction. It is a classic in every sense of the word.  Catch-22 took the war novel genre to a new level, shocking us with its clever and disturbing style. Set in a World War II American bomber squadron off the coast of Italy, Catch-22 is the story of John Yossarian, who is furious because thousands of people he has never met are trying to kill him. Yossarian is also trying to decode the meaning of Catch-22, a mysterious regulation that proves that insane people are really the sanest, while the supposedly sensible people are the true madmen.