Kanon, Joseph.  Los Alamos (Time Warner, Reissue, 2006).
A successful thriller tells an exciting, satisfying story and lets us look at the lives of some interesting people in an environment either totally new or freshly observed. Former publishing executive Joseph Kanon's first novel does all of that, and adds a layer of acute perception about recent history that immediately vaults it up into the hallowed heights of John Le Carre's Tinker, Tailor, Soldier, Spy and Charles McCarry's The Tears of Autumn--thrillers that deserve space next to Tolstoy and Dostoyevsky. In the spring of 1945, as the war in Europe is coming to an end, a former police reporter turned Army Intelligence agent named Mike Connolly arrives on the high mesa above Santa Fe, New Mexico, where J. Robert Oppenheimer and a team of scientists are rushing to finish their atomic bomb. A security man has been found battered to death, and Connolly's job is to see if it is anything more than the sordid sex crime it appears to be. Using a devilishly clever mixture of real and fictional characters, Kanon spins out a story that manages to be audacious, persuasive--and totally engrossing.  (Amazon.com)
Kanon, Joseph.  The Good German (Picador USA, 2002).
With World War II finally ending, Jake Geismar, former Berlin correspondent for CBS, has wangled one of the coveted press slots for the Potsdam Conference. His assignment: a series of articles on the Allied occupation. His personal agenda: to find Lena, the German mistress he left behind at the outbreak of the war. When Jake stumbles on a murder—an American soldier washes up on the conference grounds—he thinks he has found the key that will unlock his Berlin story. What Jake finds instead is a larger story of corruption and intrigue reaching deep into the heart of the occupation. Berlin in July 1945 is like nowhere else—a tragedy, and a feverish party after the end of the world. 
As Jake searches the ruins for Lena, he discovers that years of war have led to unimaginable displacement and degradation. As he hunts for the soldier's killer, he learns that Berlin has become a city of secrets, a lunar landscape that seethes with social and political tension. When the two searches become entangled, Jake comes to understand that the American Military Government is already fighting a new enemy in the east, busily identifying the "good Germans" who can help win the next war. And hanging over everything is the larger crime, a crime so huge that it seems -- the worst irony -- beyond punishment. 
Katzenbach, John.  Hart's War (Ballantine Books, 2000).
This inventive thriller tells the story of a murder trial that takes place in an American POW camp in Bavaria during World War II. An African-American pilot—Lincoln Scott, a member of the Tuskegee Airmen—has been accused of murdering a racist fellow prisoner.  The SS who run the camp decide that the prisoners should hold a trial, and young pilot Tommy Hart is assigned to Scott's defense. Meanwhile, a massive escape plan is brewing.
Keizer, Gregg.  Midnight Plague (Penguin Group, 2005).
An impressive follow-up to Keizer's debut, The Longest Night, this grandly imagined, character-driven novel of action and intrigue overflows with biological brinksmanship and nerve-jangling suspense. With less than a week before the Allies launch their D-Day armada, Frank Brink, M.D., is working with the British to develop antibiotics against anthrax, which other members of his team plan to use as a biological weapon. Called in to examine the corpses of 13 Jews ferried across the channel by a French fisherman and his petite daughter, Alix Pilon, an unlikely leader in the French Resistance, Brink discovers that they've been purposefully infected with pneumonic plague, one of the world's most virulent diseases. Racing against time, Brink is sent with Alix and two British commandos to find the German lab responsible and destroy it before the invasion is launched. Meanwhile, German mastermind SS Major Doktor Wollenstein has ordered the civilian Kriminalpolizei detective Kirn to find the missing Jews, telling him they are infected with typhus (though Kirn knows otherwise, and that his countrymen are in grave danger). With D-Day fast approaching, Brink finds an entire village already verging on an epidemic, as moral conflicts build tension to a stunning climax in this epic parable on the ethics of war. (Publisher's Weekly)
Keneally, Thomas.  Office of Innocence (Random House, 2004).
"On the outskirts of Sydney, Father Frank Darragh is embarking on his new life of priesthood just as war erupts in the Pacific theater. American GIs pour into Father Darragh's neighborhood, and with them comes a reminder of the atrocities abounding nearby. Determined to shun hypocrisy, the earnest priest finds himself constantly at odds with his superiors, who frown on his efforts to rescue an errant black soldier and pay deathbed visits to the wayward. But Frank Darragh persists, becoming his parish's most popular confessor, particularly among wives of Australian servicemen who confront an array of temptations while their husbands are away." One such parishioner, Kate Heggarty, turns the tables of temptation on young Darragh, challenging his spiritual beliefs and stirring a vulnerable place in his heart. When Kate is found murdered, his anguish is only compounded by accusations that he caused her death. Poignantly depicting the conflicts between the secular and the holy and between the family of Darragh's birth and the brotherhood of priests, Office of Innocence is a tale set in the most compelling of circumstances. Drawing on his own experience studying for the priesthood in his youth, Thomas Keneally has created a protagonist who speaks to the conundrums of our age while paying tribute to quiet heroes of the past.
Keneally, Thomas.  Schindler's List (Simon & Schuster, 1994).
Schindler's List is a remarkable work of fiction based on the true story of German industrialist and war profiteer, Oskar Schindler, who, confronted with the horror of the extermination camps, gambled his life and fortune to rescue 1,300 Jews from the gas chambers.  Working with the actual testimony of Schindler's Jews, Thomas Keneally artfully depicts the courage and shrewdness of an unlikely savior, a man who is a flawed mixture of hedonism and decency and who, in the presence of unutterable evil, transcends the limits of his own humanity.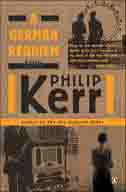 Kerr, Philip.  German Requiem (Penguin Group, 2006).
In A German Requiem, the private eye has survived the collapse of the Third Reich to find himself in Vienna. Amid decaying imperial splendor, he traces concentric circles of evil and uncovers a legacy that makes the wartime atrocities seem lily-white in comparison.
Kerr, Philip.  Hitler's Peace (Penguin, Reprint, 2006).
Drawing on the rich historical knowledge he brought to his Berlin Noir trilogy, Philip Kerr constructs his most ambitious novel to date. In 1943, Roosevelt, Churchill, and Stalin met in Tehran to plot the endgame of the war and set the terms of a German surrender. But what if Hitler was canny enough to realize that he could no longer win the war and was putting out peace feelers? And what if his offer threatened to destroy the alliance against him? With its time bomb of a plot and magisterial command of atmosphere, Hitler's Peace takes the historical thriller into new territory.

Kerr, Philip.  March Violets (Penguin Group, 2004).
Hailed by Salman Rushdie as a "brilliantly innovative thriller-writer," Philip Kerr is the creator of taut, gripping, noir-tinged mysteries that are nothing short of spellbinding. The first book of the Berlin Noir trilogy, March Violets introduces readers to Bernie Gunther, an ex-policeman who thought he'd seen everything on the streets of 1930s Berlin—until he turned freelance and each case he tackled sucked him further into the grisly excesses of Nazi subculture. Hard-hitting, fast-paced, and richly detailed, March Violets is noir writing at its blackest and best.
Kerr, Philip.  Berlin Noir (Penguin, 1944).
Now published in one paperback volume, these three mysteries are exciting and insightful looks at life inside Nazi Germany—richer and more readable than most histories of the period. We first meet ex-policeman Bernie Gunther in 1936, in March Violets (a term of derision which original Nazis used to describe late converts.) The Olympic Games are about to start; some of Bernie's Jewish friends are beginning to realize that they should have left while they could; and Gunther himself has been hired to look into two murders that reach high into the Nazi Party. In The Pale Criminal, it's 1938, and Gunther has been blackmailed into rejoining the police by Heydrich himself. And in A German Requiem, the saddest and most disturbing of the three books, it's 1947 as Gunther stumbles across a nightmare landscape that conceals even more death than he imagines. (Amazon.com)