Bryant, Mark.  World War II in Cartoons (Gallery Books, 1989).
The cartoon has a special place in the history of World War II. During the London Blitz the British upper lip was kept resolutely stiff by the antics of Strube's little man and the red-faced indignity of Low's Colonel Blimp. Fougasse's Underground posters, Lancaster's pocket cartoons, Pont's unique drawings and the work of Vicky have an immediacy that has been unaffected by the passage of time. Giles, Searle, Illingworth, Zec and many more portrayed the grim realities and humorous asides of the conflict. Across the Atlantic a discerning public enjoyed the work of Peter Arno, Arthur Szyk, Saul Steinberg, Daniel Fitzpatrick and many others. Krokodil meanwhile produced its own brand of Soviet humor and satire, and considerable talent existed in Germany, Italy, Japan, and elsewhere between 1939 and 1945.
Boyd, Bentley.  World War 2 Tales (Chester Comix, 2005).
Chester the Crab spans the globe to tell the story of World War 2 and the struggle of democratic nations against fascist nations trying to supply easy answers at the end of a gun. Included are the Battle of Britain, the attack on Pearl Harbor, the Battle of Midway, D-Day and the Pacific Island island-hopping campaign. From the invasion of Poland to the atomic bombs on Japan, this colorful graphic novel will excite reluctant readers, prepare students for standardized tests in history, and help homeschooling parents!
Darracott, Joseph.  A Cartoon War: World War Two in Cartoons (Leo Cooper, 1989).
A Cartoon War presents an unusual history of the Second World War drawing heavily on the resources of the Imperial War Museum where the author worked. Cartoonists from many nations are represented.
Egendorf, Laura K. (Editor).  World War II (Greenhaven Press, 2004).
World War II forever changed the global political and economic landscape. Cartoonists in this compilation explore life on the battlefield, attitudes toward the war in the United States and throughout the world, and the war's legacy.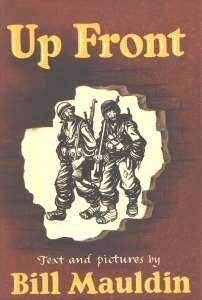 Mauldin, Bill.  Up front (The World Publishing Company, 1945).
Originally published in 1945, Bill Mauldin's collection of drawings of American infantrymen in World War II was a popular classic of its genre.
Minear, Richard H.  Dr. Seuss Goes to War: The World War II Editorial Cartoons of Theodor Seuss Geisel (New Press, 1999).
Dr. Seuss Goes to War features handsome, large-format reproductions of nearly 200 of the best of Theodor Geisel's political cartoons from this time.