The Devil's Brigade (1968), Director: Andrew V. McLaglen, Running time: 131 minutes.
During World War II a special fighting unit is formed combining a crack Canadian outfit and a conglomeration of US Army misfits previously serving time in military jails. After an initial period of conflict between the two groups, their enmity turns to respect and friendship and the unit is sent Italy to attempt a dangerous mission which has heretofore been considered impossible to successfully complete.
http://www.youtube.com/watch?v=cjpYmeJs3OE
Diary of Anne Frank (1959), Director: George Stevens, Running time: 180 minutes.
George Stevens (Giant) directed this 1959 film adaptation of the hit play based on the writings of Anne Frank, the Jewish girl from Amsterdam who hid in an attic with her family and others during the Nazi occupation. As Anne, Millie Perkins is something of a milky eyed enigma and—in retrospect—too old for the part; but she is surrounded by an outstanding cast, including Joseph Schildkraut as Anne's patient father, Ed Wynn as a cranky dentist who moves into Anne's "room," and Shelley Winters as the loud Mrs. Van Daan. Stevens turns the many overlapping dramas of the caged characters into the foundation of Anne's growth as a young woman, ready for life and love just at the moment the dream comes to an end. Beautifully shot by cinematographer William C. Mellor, and written by Frances Goodrich and Albert Hackett from their stage production. (Tom Keogh for Amazon)
http://www.youtube.com/watch?v=85v6tX5MH-w
Die Bruecke (1961), Director: Bernhard Wicki, Running time: 100 minutes.
A group of German boys is ordered to protect a small bridge in their home village during the waning months of the Second World War. Truckloads of defeated, cynical Wehrmacht soldiers flee the approaching American troops, but the boys, full of enthusiasm for the "blood and honor" Nazi ideology, stay to defend the useless bridge.  (Miranda Callahan for IMDb)
The Dirty Dozen (1967), Director: Robert Aldrich, Running time: 245 minutes.
A model for dozens of action films to follow, this box-office hit from 1967 refined a die-hard formula that has become overly familiar, but it's rarely been handled better than it was in this action-packed World War II thriller. Lee Marvin is perfectly cast as a down-but-not-out army major who is offered a shot at personal and professional redemption. If he can successfully train and discipline a squad of army rejects, misfits, killers, prisoners, and psychopaths into a first-rate unit of specialized soldiers, they'll earn a second chance to make up for their woeful misdeeds. Of course, there's a catch: to obtain their pardons, Marvin's band of badmen must agree to a suicide mission that will parachute them into the danger zone of Nazi-occupied France. It's a hazardous path to glory, but the men have no other choice than to accept and regain their lost honor. What makes The Dirty Dozen special is its phenomenal cast including Charles Bronson, Donald Sutherland, Telly Savalas, George Kennedy, Ernest Borgnine, John Cassavetes, Richard Jaeckel, Jim Brown, Clint Walker, Trini Lopez, Robert Ryan, and others. Cassavetes is the Oscar-nominated standout as one of Marvin's most rebellious yet heroic men, but it's the whole ensemble--combined with the hard-as-nails direction of Robert Aldrich—that makes this such a high-velocity crowd pleaser. The script by Nunnally Johnson and Lukas Heller (from the novel by E.M. Nathanson) is strong enough to support the all-star lineup with ample humor and military grit, so if you're in need of a mainline jolt of testosterone, The Dirty Dozen is the movie for you. (Jeff Shannon for Amazon.com)
http://www.youtube.com/watch?v=zHBccI9gn_o
Distant Journey: Daleka Cesta (1949), Director: Alfred Radok, Running time: 108 minutes.
Radok uses experimental cinematography, blending historic footage of the Nazis with a fictional love story between a Jewish woman and her Gentile husband. Soon after the film's release, Stalinist censorship was implemented in Czechoslovakia. Radok fled to Sweden and Czech filmmakers began their long struggle against strict communist censors. Film production declined, and Distant Journey was banned from audiences only to reemerge over forty years later.
Divided We Fall (2000), Director: Jan Hrebejk, Running time: 122 minutes.
A daring comedy of ethics, Divided We Fall takes place during World War II in a small, Nazi-occupied town in Czechoslovakia. Josef and Maria, a childless couple, have withdrawn further and further from reality even as the war circles closer to their eerily quiet town. Josef's decision to sleep through a war he doesn't want to acknowledge is soon tested when the Jewish son of his former employer arrives in the middle of the night seeking refuge. David, the sole survivor from his family, escaped from a concentration camp in Poland and managed to return to the only place he knows in search of help. As they harbor David in their pantry over the next three years, Josef and Maria discover the depth of their resolve, forced to play the role of seeming collaborators in order to save themselves and David. Reminiscent more of Yugoslav filmmaker Emir Kustirica's devastating brand of black humor (Underground, Time of the Gypsies) than the saccharine Life Is Beautiful, to which it has been repeatedly compared, Divided We Fall achieves quite a lot, capturing the pervasive suspicion and betrayal of World War II through the unexpected guise of situation comedy. (Fionn Meade for Amazon.com) 
Devils on the Doorstep (2000), Director: Wen Jiang, Running time: 139 minutes.
Winner of the Grand Jury Prize at the Cannes Film Festival, and banned in its native country, Jiang Wen's ravishingly photographed anti-war epic is set in 1945 in a Japanese-occupied rural Chinese village. Wen stars as Ma Dasan, a peasant, who, one night at gunpoint, is compelled to shelter two prisoners. One is a captured Japanese soldier who wants to be killed, the other his Chinese interpreter, who wants to stay alive. As the days turn into months, Dasan and his fellow villagers keep their unwanted guests hidden from the Japanese forces, while deciding whether or not to execute their captives. A plan to exchange the men for grain leads to the film's harrowing and devastating climax.  
Docteur Petiot (1990), Director: Christian de Chalonge, Running time: 102 minutes.
This film is an adaptation of the real Dr Petiot's life. During World War II Petiot, a M.D. in occupied Paris, promised to rich Jews, among his patients, to pass them in Spain. In fact he drugged them and burnt them in his coal-range, steeling their wells. After Liberation he was condemned to death.
http://www.youtube.com/watch?v=Yjtj4365Duo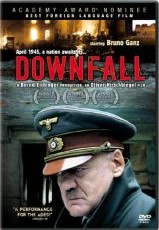 Downfall (2004). Director: Oliver Hirschbiegel, Running time: 155 minutes.
The riveting subject of Downfall is nothing less than the disintegration of Adolf Hitler in mind, body, and soul. A 2005 Academy Award nominee for best foreign language film, this German historical drama stars Bruno Ganz (Wings of Desire) as Hitler, whose psychic meltdown is depicted in sobering detail, suggesting a fallen, pathetic dictator on the verge on insanity, resorting to suicide (along with Eva Braun and Joseph and Magda Goebbels) as his Nazi empire burns amidst chaos in mid-1945. While staging most of the film in the claustrophobic bunker where Hitler spent his final days, director Oliver Hirschbiegel (Das Experiment) dares to show the gentler human side of der Fuehrer, as opposed to the pure embodiment of evil so familiar from many other Nazi-era dramas. This balanced portrayal does not inspire sympathy, however: We simply see the complexity of Hitler's character in the greater context of his inevitable downfall, and a more realistic (and therefore more horrifying) biographical portrait of madness on both epic and intimate scales. By ending with a chilling clip from the 2002 documentary Blind Spot: Hitler's Secretary, this unforgettable film gains another dimension of sobering authenticity. (Jeff Shannon for Amazon.com)
http://www.youtube.com/watch?v=JMgS74F6k6Q