Tea With Mussolini (1999), Director: Franco Zeffirelli, Running time: 117 minutes.
Florence, Italy, on the brink of WWII: it was a time of social unrest and, of course... afternoon tea. Join Oscar winner Cher and an incredible cast of leading ladies as they host this "radiant, beautiful filmthat is "worth savoring" (Mademoiselle). Prewar Florence is the place to be for any proper British woman who relishes culture and the arts. These ladies have everything they could ever want or needincluding a promise from dictator Mussolini himself that not even the imminent world war will impose upon their lifestyle. But when it appears that his word is not kept, and these expatriates who chose to stay in Italy instead of seeking refuge in their own countryare in trouble, it takes a young outcast boy and a brazen American woman (Cher) to keep them in the high life and out of harm's way.  
 
http://www.youtube.com/watch?v=Ds8F6OT0Ons

The Thin Redline (1999), Director: Terrence Malik, Running time: 170 minutes.
One of the cinema's great disappearing acts came to a close with the release of The Thin Red Line in late 1998. Terrence Malick, the cryptic recluse who withdrew from Hollywood visibility after the release of his visually enthralling masterpiece Days of Heaven (1978), returned to the director's chair after a 20-year coffee break. Malick's comeback vehicle is a fascinating choice: a wide-ranging adaptation of a World War II novel (filmed once before, in 1964) by James Jones. The battle for Guadalcanal Island gives Malick an opportunity to explore nothing less than the nature of life, death, God, and courage. Let that be a warning to anyone expecting a conventional war flick; Malick proves himself quite capable of mounting an exciting action sequence, but he's just as likely to meander into pure philosophical noodling—or simply let the camera contemplate the first steps of a newly birthed tropical bird, the sinister skulk of a crocodile. This is not especially an actors' movie—some faces go by so quickly they barely register—but the standouts are bold: Nick Nolte as a career-minded colonel, Elias Koteas as a deeply spiritual captain who tries to protect his men, Ben Chaplin as a G.I. haunted by lyrical memories of his wife. The backbone of the film is the ongoing discussion between a wry sergeant (Sean Penn) and an ethereal, almost holy private (newcomer Jim Caviezel). The picture's sprawl may be a result of Malick's method of "finding" a film during shooting and editing, and in some ways The Thin Red Line seems vaguely, intriguingly incomplete. Yet it casts a spell like almost nothing else of its time, and Malick's visionary images are a challenge and a signpost to the rest of his filmmaking generation.  (Robert Horton for amazon.com)
http://www.youtube.com/watch?v=LCmlOhsIwBk

Thirty Seconds Over Tokyo (1944), Director: Mervyn LeRoy, Running time: 138 minutes.
The amazingly detailed true story of "The Doolittle Raid" based on the novel of the same name. Stunned by Pearl Harbor and a string of defeats, America needed a victory—badly. To that end, Colonel Jimmy Dolittle, a former air racer and stunt pilot, devises a plan for a daring raid on the heart of Japan itself. To do this, he must train army bomber pilots to something no one ever dreamed possible—launch16 fully load bombers from an aircraft carrier! This movie is remarkable in it's accuracy and even uses film footage from the actual raid.
http://www.youtube.com/watch?v=9z_Wk8Dz2n8

This Happy Breed (1944), Director: David Lean, Running time: 105 minutes.
This Happy Breed, written by Noel Coward, shows how the ordinary people lived between the wars. Just after WWI the Gibbons family moves to a nice house in the suburbs. An ordinary sort of life is led by the family through the years with average number of triumphs and disasters until the outbreak of WWII.

Till We Meet Again (1989), Director: Charles Jarrott, Running time: 240 minutes.
Sweeping from the risqué music halls of Paris to Hollywood in the '30s, to World War II in England to the sun-drenched vineyards in France's Champagne region, Till We Meet Again tells the story of three extraordinary generations of women who risked their lives for love and country. Starring an all-star cast including Hugh Grant and Courteney Cox Arquette.

To Late the Hero (1970), Director: Robert Aldrich, Running time: 144 minutes.
A WWII film set on a Pacific island. Japanese and allied forces occupy different parts of the island. When a group of British soldiers are sent on a mission behind enemy lines, things don't go exactly to plan.
http://www.youtube.com/watch?v=tl6LHhzmlHA

Tonight We Raid Calais (1943), Director: John Brahm, Running time: 70 minutes.
British Intelligence dispatches Commando Geoffrey Carter (John Sutton) on a one-man raid to destroy a munitions plant that manufactures bombs in Nazi-occupied France. He enlists the aid of a patriotic farmer, M. Bonnard (Lee J. Cobb), that lives near the plant, over the objections of his daughter Odette Bonnard (Annabella), who believes that the British were responsible for the fall of France. Her attitude softens toward Carter, who is living with the family as posing as a son, but Odette cannot bring herself to aid in Carter's plan because of her fear of reprisals against her family. She turns informer and the Nazis capture Carter.
http://www.youtube.com/watch?v=csGsHADKvuw

Tora! Tora! Tora! (1970), Director: Kinji Fukasaku, Running time: 144 minutes.
"Tora! Tora! Tora!" is the Japanese signal to attack - and the movie meticulously recreates the attack on Pearl Harbor and the events leading up to it. Opening scenes contrast the American and Japanese positions. Japanese imperialists decide to stage the attack. Top U.S. brass ignore it's possibility. Intercepted Japanese messages warn of it - but never reach F.D.R.'s desk. Radar warnings are disregarded. Even the entrapment of a Japanese submarine in Pearl Harbor before the attack goes unreported. Ultimately the Day of Infamy arrives - in the most spectacular, gut-wrenching cavalcade of action-packed footage ever. You'll see moments of unsurpassed spectacle and heroism: U.S. fighters trying to take off and being hit as they taxi; men blasted from the decks of torpedoed ships while trying to rescue buddies; savage aerial dogfights pitting lone American fliers against squadrons of Imperial war planes. It's the most dazzling recreation of America's darkest day - and some of her finest hours.  

http://www.youtube.com/watch?v=xFmVtZLnHio

To the Shores of Tripoli (1942), Director: H. Bruce Humberstone, Running time: 86 minutes.
When a carefree playboy (John Payne) joins the Marine Corps, he tests the skill and patience of the tough veteran sergeant (Randolph Scott) who tries to whip him into a real Marine. But as his training proceeds, the recruit's cocky selfishness is replaced by selfless valor, and he eventually earns the love of a beautiful Navy nurse (Maureen O'Hara). Nominated for the Academy Award for Best Cinematography, To the Shores of Tripoli was shot with the cooperation of the USMC and contains authentic scenes of Marine combat training and ground drills.
http://www.youtube.com/watch?v=jKOiQgVSP4E

The Train (1965), Director: John Frankenheimer, Running time: 133 minutes.
Paris, August 1944. With the Allied army closing in, German commander and art fanatic Colonel von Waldheim (Paul Scofield) steals a vast collection of rare French paintings and loads them onto a train bound for Berlin. But when a beloved French patriot is murdered while trying to sabotage von Waldheim's scheme, Labiche (Burt Lancaster), a stalwart member of the Resistance, vows to stop the train at any cost. Calling upon his vast arsenal of skills, Labiche unleashes a torrent of devastation and destruction loosened rails, shattered tracks and head-on collisions in an impassioned, suspense-filled quest for justice, retribution and revenge. Inspired by an actual event and highlighted by spectacular stunt work and visual effects, The Train is "an edge-of-your-seat, thrilling, suspenseful and superior film" (The Motion Picture Guide).
 
http://www.youtube.com/watch?v=GNh_1w0G_lA

A Town Like Alice (1981), Director: David Stevens, Running time: 305 minutes.
Set against the brutal chaos of World War II, a love story begins that will take two lovers through a living nightmare of captivity, across three continents and two decades. From the steamy jungles of Malaya to the dusty and desolate outback of Australia.  Based on Nevil Shute' international bestselling novel A Town Like Alice follows the lives of Jean Paget and Joe Harman. Meeting in Malaya, an attractive young English captive, and he a cheerful Australian POW, tortured for a simple act of kindness. Separated first by their captors then by the distance of passing years, the two are finally reunited in the rugged outback of Australia to face a challenge every bit as demanding as their wartime trials.  

Triumph of the Spirit (1989), Director: Robert M. Young, Running time: 120 minutes.
Oscar nominees Willem Dafoe (Shadow of the Vampire, Platoon), Edward James Olmos (Stand and Deliver) and Robert Loggia (Jagged Edge) deliver "performances [that] will astonish you" (Jeffrey Lyons) in this "extraordinary" (The Wall Street Journal) story of life, death and conscience. It "may be one of the most powerful films you will see in a lifetime" (KABC-TV). And most incredible of all, it's true! World War II was the time. Auschwitz was the place. Survival was the prize. Boxer Salamo Arouch (Dafoe) is interned in the Nazi death camp with his family and friends. For the amusement of his captors, Salamo is forced to fight his fellow in mates brutal contests that send the loser to the gas showers. Salamo's prowess in the ring is both his salvation and his nightmare, as his "victories" condemn others to death. Still he fights on, hoping he might somehow save his father his friends perhaps even his soul.

http://www.youtube.com/watch?v=pSjzWQVUfoY

The Tuskegee Airmen (1995), Director: Robert Markowitz, Running time: 106 minutes.
Featuring an all-star cast headed by Laurence Fishburne, fireballs of high speed air action explode off the screen in this exciting story of the "Fighting 99th," the first squadron of black American pilots to be allowed to fight for their country.  Based on the true story.  
http://www.youtube.com/watch?v=-1hTp-fbtxU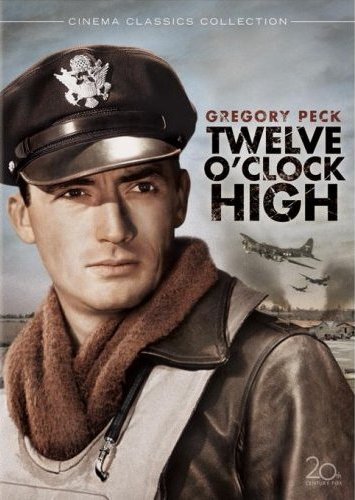 Twelve O'Clock High (1949), Director: Henry King, Running time: 132 minutes.
This gritty World War II action drama staring Gregory Peck, Oscar winner Dean Jagger, Hugh Marlowe, Gary Merrill and Millard Mitchell is seen as one of the most realistic portrayals of the heroics and perils of war. Convinced an air force commander (Gary Merrill) is at the breaking point, Brigadier General Savage (Peck) takes over his struggling bomber group. Kind and understanding, he adopts a crushing discipline to revitalize the demoralized troop. At first resentful and rebellious, the flyers gradually change as Savage guides them to amazing feats. But the stress of command soon takes it's toll and the weary general reaches his own breaking point.
http://www.youtube.com/watch?v=gi2NwU38NzA