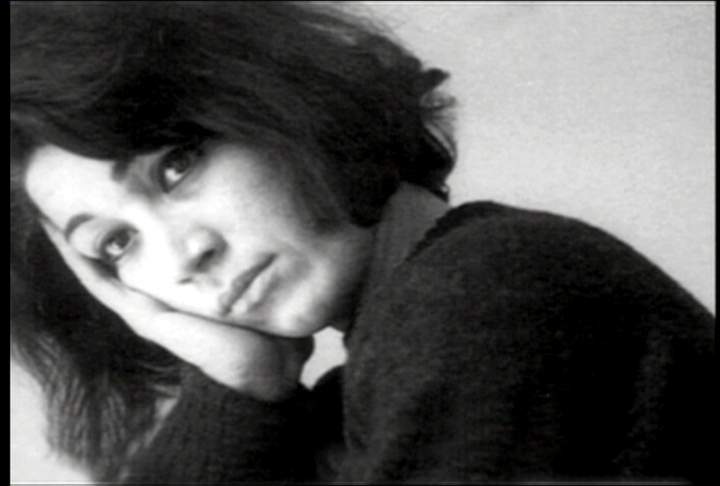 (1935-1967)
A pivotal female figure, Iranian poet Forugh Farrokhzad, also stretched the bounds of her nation's literature. Born in 1935 to a middle-class family in Tehran, she married a distant cousin fifteen years her senior at the age of sixteen in order to escape the suffocating confines of her strict home. Soon after, she began publishing her poems in magazines, and making frequent trips to Tehran to meet with various editors.  However, within three years, during which time she gave birth to a son, her marriage failed and Farrokhzad was forced to relinquish her child to her husband and his family. She was given few visiting rights, and the child was brought up with the impression that his mother was a disgraceful woman who had abandoned him for the pursuit of her sexual pleasures. Distraught and burdened by family and societal pressures, she had a nervous breakdown for which she was hospitalized and subjected to electromagnetic shock therapy. Upon her recovery she faced a new world in the capital city-- a world of men in tight literary circles, unaccustomed to a woman amongst them. In a society where historically, women, their beauty, breasts, hair, etc., had freely been made the subjects of poems, Forugh made men her poetic subjects, her objects of love and reverie, of passion and sexual desire. Her poems were autobiographical and from a clearly feminine perspective. Further, they were "modern" as opposed to "traditional," a form rejected by the academic community and not considered poetry at all. These factors subjected her to further disapproval and gossip.
Still, Farrokhzad lived her life uncompromisingly, and after a number of short-lived relationships fell in love and maintained a passionate relationship with a film director and producer, Ebrahim Golestan. She soon began work as an assistant and later became an editor at the Golestan Film Studios, where she subsequently make her first documentary film, The House is Black, about a leper colony near Tabriz. The artistic merit and success of the film cast Farrokhzad in a different light and she is finally recognized as a serious artist. A year later, the film was awarded the prestigious best documentary award in the 1963 Oberhausen Film Festival in Germany.  
In the spring of 1964, Forugh's fourth collection of poems, Reborn, appeared. It was immediately hailed as a major work rivaling the best in the short history of Persian modernist poetry. In a society where women were considered best suited for keeping their lips tightly shut and smiling, saying as little as possible, Farrokhzad was, in her sister's words, an "active and curious woman who blew a new life into Iran's world of modern poetry. She drafted a new pattern from today's language. With incredible brevity, she unlocked the lips of (Iranian) women artists and writers."[i]
Farrokhzad continued to write and publish until her untimely death, at the age of 32, in a car crash. Her poems have lived on, influencing generations of Iranians—and recently readers worldwide.
We must be judged and feel that we have made a difference, made a connection, and that we are responsible. But how can one look fondly at, or even expect an answer from a society that is shapeless, without an ideal, refusing any sort of responsibility, its only movement being from a season of mating to a season of grazing? In this field, an artist's work is private and individualistic. How long can he or she survive this isolation, conversing only with the door and the four walls? This is a question, the answer to which lies in the capacity and forbearance of each individual artist. Those who grow silent, or have nothing more to say, had better keep their peace, otherwise their ability to cope with this frightful sewage becomes impossible and they find themselves abandoned and useless.  The only way to survive is that one should reach such a state of detachment and maturity that he or she can become both a builder of and a mouthpiece for her world, both an observer and a judge.   --Forugh Farrokhzad
Biographical sketch and translated poems contributed by writer and poet, Sholeh Wolpé                                                              
---
The Gift
I speak from the deep end of night.
Of end of darkness I speak.
I speak of deep night ending.
O kind friend, if you visit my house,
bring me a lamp, cut me a window,
so I can gaze at the swarming alley of the fortunate.
From Sin—Selected Poems of Forugh Farrokhzad  translated by Sholeh Wolpé (University of Arkansas Press, 2007)
Window
A window for seeing.
A window for hearing.
A window like a well
that plunges to the heart of the earth
and opens to the vast unceasing love in blue.
A window lavishing the tiny hands of loneliness
with the night's perfume from gentle stars.
A window through which one could invite 
the sun for a visit to abandoned geraniums.
One window is enough for me.
I come from the land of dolls, from under 
the shade of paper trees in a storybook grove;
from arid seasons of barren friendships and love
in the unpaved alleys of innocence;
from years when the pallid letters of the alphabet
grew up behind desks of tubercular schools;
from the precise moment children could write
"stone" on the board and the startled starlings took wing
from the ancient tree.
I come from among the roots of carnivorous plants,
and my head still swirls with the sound
of a butterfly's terror— crucified with a pin to a book.
When my trust hung from the feeble rope of justice
and the whole city tore my lamps' hearts to shreds,
when love's innocent eyes were bound
with the dark kerchief of law, and blood gushed
from my dreams' unglued temples,
when my life was no longer anything,
nothing at all except the tick tick of a clock on the wall,
I understood that I must, must, must
deliriously love.
One window is enough for me.
A window to a moment of comprehension, perception, silence.
The walnut sapling has grown tall enough
to tell its leaves the meaning of the wall.
Ask of the mirror the name of your liberator.
Is not the trembling earth beneath your feet
lonelier than you?
The prophets brought the epistles
of ruin to our age.
These explosions without end, 
these poisonous clouds,
are they not the peal of holy scriptures?
O friend, O comrade, O blood brother,
when you reach the moon,
mark the day of the flowers' massacre.
Dreams always fall
from the heights of their own naiveté,
and perish.
It's a four-leaf clover I'm smelling, 
sprouted upon the grave of an archaic creed.
Was the woman buried in the shroud of longing
and chastity, my youth?
Will I ever again climb the stairs of wonder
to greet the good God who paces my roof?
I sense that time has passed,
I sense my share of "moments" is now a leaf of history;
I sense this desk is just an illusory mass between
my hair and this forlorn stranger's hands.
Speak to me.
What does one who offers you a living body's love
want in return but a nod to her sense of existence?
Speak to me.
From the sanctuary of my window
I am intimate with the sun.


From Sin—Selected Poems of Forugh Farrokhzad  translated by Sholeh Wolpé (University of Arkansas Press, 2007)
Sin 

 
I have sinned a rapturous sin
in a warm enflamed embrace,
sinned in a pair of vindictive arms,
arms violent and ablaze.
In that quiet vacant dark
I looked into his mystic eyes,
found such longing that my heart
fluttered impatient in my breast.
In that quiet vacant dark
I sat beside him punch-drunk,
his lips released desire on mine,
grief unclenched my crazy heart.
I poured in his ears lyrics of love:
O my life, my lover it's you I want.
Life-giving arms, it's you I crave.
Crazed lover, for you I thirst.
Lust enflamed his eyes,
red wine trembled in the cup,
my body, naked and drunk,
quivered softly on his breast.
I have sinned a rapturous sin
beside a body quivering and spent.
I do not know what I did O God,
in that quiet vacant dark.
From Sin—Selected Poems of Forugh Farrokhzad  translated by Sholeh Wolpé (University of Arkansas Press, 2007)

 


Someone who is like no one                                           The wind will take us