Ienaga, Saburo.  Pacific War, 1931-1945 (Pantheon; First paperback edition, 1979).
'The Pacific War provides knowledge of what went on in Japan and in the conquered territories during World War ll in elaborate and sometimes terrifying detail. I believe that no one can really understand contemporary Japan and its policies unless he is acquainted with the grim Saburo lenaga presents.
Igarashi, Yoshikuri.  Bodies of Memory (Princeton University Press, 2000).
Japan and the United States became close political allies so quickly after the end of World War II, that it seemed as though the two countries had easily forgotten the war they had fought. Here Yoshikuni Igarashi offers a provocative look at how Japanese postwar society struggled to understand its war loss and the resulting national trauma, even as forces within the society sought to suppress these memories. Igarashi argues that Japan's nationhood survived the war's destruction in part through a popular culture that expressed memories of loss and devastation more readily than political discourse ever could. He shows how the desire to represent the past motivated Japan's cultural productions in the first twenty-five years of the postwar period.
Japanese war experiences were often described through narrative devices that downplayed the war's disruptive effects on Japan's history. Rather than treat these narratives as obstacles to historical inquiry, Igarashi reads them along with counter-narratives that attempted to register the original impact of the war. He traces the tensions between remembering and forgetting by focusing on the body as the central site for Japan's production of the past. This approach leads to fascinating discussions of such diverse topics as the use of the atomic bomb, hygiene policies under the U.S. occupation, the monstrous body of Godzilla, the first Western professional wrestling matches in Japan, the transformation of Tokyo and the athletic body for the 1964 Tokyo Olympics, and the writer Yukio Mishima's dramatic suicide, while providing a fresh critical perspective on the war legacy of Japan.
Inoguichi, Rikihei, et.al.  The Divine Wind (Bantam Books, 1979).
Here the Japanese commanders relive the tragic 10 month history of this unique suicide force, the most carefully documented and accurate account of the suicide fliers, their lives and thoughts.  Written by senior officials in the wartime kamikaze effort, this book offers valuable insights into the thinking of the offense's leaders and fascinating information on Japan's last stand in the Pacific War.
Jackson, Kathi.  They Called Them Angels (Bison Books, 2006).
With the insight and intimacy of firsthand accounts from some of the thousands of army and navy nurses who served both stateside and overseas during World War II, this book tells the stories of the brave women who used any and all resources to save as many lives as possible. Although military nurses could have made more money as civilians, thousands chose to leave the security of home to care for the young men who went off to war. They were not saints but vibrant women whose performance changed both military and civilian nursing. Kathi Jackson's account follows army and navy nurses from the time they joined the military, through their active service, to their lives today.
Jefferson, Alexander.  Red Tail Captured, Red Tail Free (Fordham University Press (April 1, 2005).
Alexander Jefferson was one of 32 Tuskegee Airmen from the 332nd Fighter Group to be shot down defending a country that considered them to be second-class citizens. A Detroit native, Jefferson enlisted in 1942, trained at Tuskegee Institute, Alabama, became a second lieutenant in 1943, and joined one of the most decorated fighting units in the War, flying P51s with their legendary--and feared--"red tails." Based in Italy, Jefferson flew bomber escort missions over southern Europe before being shot down in France in 1944. Captured, he spent the rest of the war in Luftwaffe prison camps in Sagan and Moosberg, Germany. 
In this vividly detailed, deeply personal book, Jefferson writes as a genuine American hero and patriot. It's an unvarnished look at life behind barbed wire--and what it meant to be an African-American pilot in enemy hands. It's also a look at race and democracy in America through the eyes of a patriot who fought to protect the promise of freedom. The book features the sketches, drawings, and other illustrations Jefferson created during his nine months as a "kriegie" (POW) and Lewis Carlson's authoritative background to the man, his unit, and the fight Alexander Jefferson fought so well.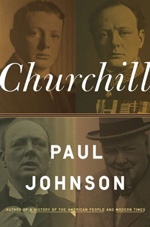 Johnson, Paul.   Churchill (Viking, 2009).
In Churchill, Johnson applies a wide lens and an unconventional approach to illuminate the various phases of Churchill's career. From his adventures as a young cavalry officer in the service of the Empire to his role as an elder statesman prophesying the advent of the Cold War, Johnson shows how Churchill's immense adaptability combined with his natural pugnacity to make him a formidable leader for the better part of a century. Johnson's narration of Churchill's many triumphs and setbacks, rich with anecdote and quotation, illustrates the man's humor, resilience, courage, and eccentricity as no other biography before.

Winston Churchill's hold on contemporary readers has never slackened, and Paul Johnson's lively, concise biography will appeal to historians and general nonfiction readers alike.
Johnston, Harold.  A Bridge Not Attacked: Chemical Warfare Civilian Research During World War II (World Scientific Publishing Company, 2004).
This book tells the novel true stories concerning highly talented civilian scientists in some unusual places and situations during World War II. The purpose of this book is to present an almost forgotten history of secret war research in universities. The focus is on the narrow subject of chemical warfare research and on a small number of individuals, but with in-depth study of these individuals and what they did. Mostly graduate students and young instructors, they were working under the direction of professors at the California Institute of Technology (Caltech) and the University of California (Berkeley). Action took place in California, Florida and the jungles of Panama. This history touches on the work of four senior Nobel Prize winners and eight junior, future Nobel Prize winners at Caltech and Berkeley.