Ambrose, Stephen E.  The Good Fight : How World War II Was Won (Atheneum, 2001).
Stephen E. Ambrose, one of the finest historians of our time, has written an extraordinary chronicle of World War II for young readers. From Japanese warplanes soaring over Pearl Harbor, dropping devastation from the sky, to the against-all-odds Allied victory at Midway, to the Battle of the Bulge during one of the coldest winters in Europe's modern history, to the tormenting decision to bomb Nagasaki and Hiroshima with atomic weapons, The Good Fight brings the most horrific—and most heroic—war in history to a new generation in a way that's never been done before. In addition to Ambrose's accounts of major events during the war, personal anecdotes from the soldiers who were fighting on the battlefields, manning the planes, commanding the ships—stories of human triumph and tragedy—bring the war vividly to life.
Auerbacker, Inge.  I Am a Star: Child of the Holocaust (Puffin, 1993).
This account of one girl's Holocaust experience is rich for its interweaving of autobiography and historical data. At age six, Auerbacher was forced to wear the yellow star that set her apart. Then she was sent to the Terezin concentration camp in Czechoslovakia. Fifteen thousand children entered that camp, but only a hundred exited alive. And of more than 1000 people who arrived with Auerbacher, only 15 survived. It's a moving story supported by well-preserved wartime photographs and Bernbaum's harsh, spare drawings. The author's ability to survive is linked to her later capacity to translate hardship and tragedy into poetry of hope and perseverance. Her perspective, while chilling, pierces the heart with memorable imagery, such as envying the birds, which are free to fly away from the camp. (Publisher's Weekly)
Avi.  Don't You Know There's A War On? (HarperTrophy, 2003).
World War II is on everyone's mind and in every headline, and Howie Crispers has a hunch that his school principal is a spy. With a little snooping around, Howie finds out something even more alarming. Principal Lomister may not be a spy, but he is plotting to get rid of Howie's favorite teacher. Howie's dad is fighting Nazis overseas, and his mom is working hard to support the war effort, so Miss Gossim is the only person Howie can depend on. With the help of his friends, and a plan worthy of radio show superhero Captain Midnight, Howie intends to save Miss Gossim!
Ayer, Eleanor H.  Parallel Journeys (Aladdin, 2000).
She was a young German Jew.  He was an ardent member of the Hitler Youth. This is the story of their parallel journey through World War II.  Helen Waterford and Alfons Heck were born just a few miles from each other in the German Rhineland. But their lives took radically different courses: Helen's to the Auschwitz extermination camp; Alfons to a high rank in the Hitler Youth. While Helen was hiding in Amsterdam, Alfons was a fanatic believer in Hitler's "master race." While she was crammed in a cattle car bound for the death camp Auschwitz, he was a teenage commander of frontline troops, ready to fight and die for the glory of Hitler and the Fatherland. This book tells both of their stories, side-by-side, in an overwhelming account of the nightmare that was WWII. The riveting stories of these two remarkable people must stand as a powerful lesson to us all.
Bachrach, Susan.  Tell Them We Remember: The Story of the Holocaust (Little, Brown Young Readers, 1994).
One and a half million children and teenagers were murdered by the Nazis. This photo-history, produced in association with the U.S. Holocaust Memorial Museum, focuses on what happened to young people whose world of family and friends, school and play, was destroyed. More than 30 short, accessible chapters cover the general history, including the rise of Hitler, the ghettos, the transports, the camps, the gas chambers, and the movements of resistance and rescue. Sidebars tell the ongoing stories of individual young people and show their ID photos; some of the individuals are pictured several times during the period 1933-45, but many don't survive. The writing is direct, with no histrionics or gimmicks. A wealth of material drawn from the museum's large collection of photographs and taped oral and video histories supports the facts. The systematic murder is confronted here. We're told of the brutality, the medical experiments, and the corpses stacked up like cordwood, and there are pictures of the death marches and the gas chambers. The Jews were the main target of Nazi hatred, but throughout the book, Bachrach also talks about other groups and individualsincluding Gypsies, homosexuals, and the disabledwho were marked as enemies of the state. The book's design is clear, with a spacious chronology at the back, a long bibliography, subdivided by genre and reading level, and an appendix of population figures by country. This is one of the best books available for introducing the subject to young people and an excellent text for the Holocaust curriculum now required in many states.  (Hazel Rochman for Booklist)
Bawden, Nina.  Carrie's War (Heinemann Educational Publishers, New edition, 1975).
Carrie's War is an excellent book, with alot of charm.  It starts with young Carrie being evacuated to Wales with her brother during the WW II. While there, she meets such wonderful characters as Hepzibah Green, Johnny Gotobed, Albert Sandwich and "Auntie Lou". While under the strict mister Evans constant supervision, how will they do out there? And what terrible thing is it that Carrie did that she regrets for the rest of her life?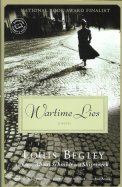 Begley, Louis.  Wartime Lies  (Knopf, 1991).
Fleeing Nazi persecution of the Jews, a Polish boy and his aunt construct a pattern of lies and deceptions to save their lives--and are forever changed.
Bergman, Tamar.  Along the Tracks (Houghton Mifflin,1995).
"Readers are exposed to a compellingly authentic picture of life in the likes of Tashkent and Samarkand during the war - a cruel world where the state effectively abandoned homeless children, but where some remnants of kindness and humanity survived. This is a gripping, evocative story."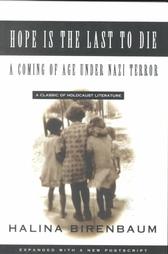 Birenbaum, Halina.  Hope is the Last to Die (M.E. Sharpe, 1996).
This book is an important work in Holocaust literature and was originally published in Poland in 1967. Covering the years 1939-1945, it is the author's account of her experience growing up in the Warsaw ghetto and her eventual deportation to, imprisonment in, and survival of the Majdanek, Auschwitz, Ravensbruck, and Neustadt-Glewe camps. Since the old, the weak, and children were summarily executed by the Nazis in these camps, Mrs Birenbaum's survival and coming of age is all the more remarkable. Her story is told with simplicity and clarity and the new edition contains revisions made by the author to the original English translation, and is expanded with a new epilogue and postscripts that bring the story up to date and complete the circle of Mrs Birenbaum's experiences.
Bitton-Jackson, Livia.  I Have Lived A Thousand Years: Growing Up In The Holocaust (Simon Pulse, Reprint edition, 1999).
In a graphic present-tense narrative, this Holocaust memoir describes what happens to a Jewish girl who is 13 when the Nazis invade Hungary in 1944. She tells of a year of roundups, transports, selections, camps, torture, forced labor, and shootings, then of liberation and the return of a few.  Horrifying as her experience is, she doesn't dwell on the atrocities. There is hope here. Unlike many adult survivor stories, this does not show the victims losing their humanity. The teenager and her mother help each other survive; they save each other from the gas chambers. Even in the slaughter of the cattle trucks strafed by machine-gun fire, "words of comfort emerge from every corner." The occasional overwriting about "drowning in a morass of pain and helplessness" is unfortunate. The facts need no rhetoric. On every page they express her intimate experience. After the war, the teenager finds her brother, hears how her father died. She wonders whether she dare enjoy the luxury of being a girl, of "having hair." A final brief chronology of the Holocaust adds to the value of this title for curriculum use with older readers. (Hazel Rochman for Booklist)
Boas, Jacob.  We Are Witnesses: Five Diaries Of Teenagers Who Died In The Holocaust (Scholastic Paperbacks, 1996).
Jewish teenagers David, Yitzhak, Moshe, Eva, and Anne all kept diaries and were all killed in Hitler's death camps. These are their stories, in their own words. Author Jacob Boas is a Holocaust survivor who was born in the same camp to which Anne Frank was sent. Includes a photo insert.
Booth, Martin.  War Dog (Margaret K. McElderry, First United States Edition, 1997).
After her owner is arrested while poaching, Jet is requisitioned by the British Army and sees duty on the beach at Dunkirk, searching for survivors of Germany's bombing raids on English cities, and in Italy at the end of the war.
Borden, Louise.  The Journey That Saved Curious George: The True Wartime Escape of Margret and H.A. Rey (Houghton Mifflin, 2005).
In 1940, Hans and Margret Rey fled their Paris home as the German army advanced. They began their harrowing journey on bicycles, pedaling to Southern France with children's book manuscripts among their few possessions. Louise Borden combed primary resources, including Hans Rey's pocket diaries, to tell this dramatic true story. Archival materials introduce readers to the world of Hans and Margret Rey while Allan Drummond dramatically and colorfully illustrates their wartime trek to a new home. Follow the Rey's amazing story in this unique large format book that resembles a travel journal and includes full-color illustrations, original photos, actual ticket stubs and more. A perfect book for Curious George fans of all ages.
Boyne, John.  The Boy in the Striped Pajamas (David Fickling Books, 2006).
When Bruno returns home from school one day, he discovers that his belongings are being packed in crates. His father has received a promotion and the family must move from their home to a new house far far away, where there is no one to play with and nothing to do. A tall fence running alongside stretches as far as the eye can see and cuts him off from the strange people he can see in the distance. But Bruno longs to be an explorer and decides that there must be more to this desolate new place than meets the eye. While exploring his new environment, he meets another boy whose life and circumstances are very different to his own, and their meeting results in a friendship that has devastating consequences.
Brady, Laurel.  Say You Are My Sister (HarperCollins, 2000).
In rural Georgia during World War II, twelve-year-old Ramona Louise determines to do everything to help her beloved older sister Georgie keep the family together after the death of their parents, even to keeping a secret which could destroy their close relationship.
Bruchac, Joseph.  Code Talker: A Novel About the Navajo Marines of World War Two (Puffin, 2006).
The United States is at war, and sixteen-year-old Ned Begay wants to join the cause—especially when he hears that Navajos are being specifically recruited by the Marine Corps. So he claims he's old enough to enlist, breezes his way through boot camp, and suddenly finds himself involved in a top-secret task, one that's exclusively performed by Navajos. He has become a code talker. Now Ned must brave some of the heaviest fighting of the war, and with his native Navajo language as code, send crucial messages back and forth to aid in the conflict against Japan. His experiences in the Pacific—from Guadalcanal to Iwo Jima and beyond—will leave him forever changed.