MacInnes, Helen.  While Still We Live (Fawcett, 1982).
It began very innocently. A holiday visit to Poland. But before enojoying the sights and sounds of this fascinating new place, happiness took a violent turn and became a nightmare of terror...when suddenly you're mistaken for a Nazi spy, and to save your life, you have to prove you are innocent.
MacInnes, Helen.  Assignment in Brittany (Sun Dial Press, 1943).
English soldier infiltrates Brittany during the world war so he can send back information regarding the German's movements. He was the double of a man in the hospital from Brittany. He took his ID papers and used his identity. He finds a love interest while he is incognito.
MacInnes, Helen.  Above Suspicion (Sun Dial Press, 1943).
Helen MacInnes writes novels of international intrigue based upon a pattern of traditional characters, values, and elements of suspense. Her standard conflicts take the form of opposing ideologies: America and the West versus the Nazis and, later, Communists and terrorists. The lines of good and evil are clearly drawn in her work and it is understood that good will triumph. Accordingly, her amateur heroes consistently emerge unscathed from the most danger-fraught situations, after first thwarting their professional antagonists. Above Suspicion (1941), a tale of espionage set in pre-World War II Germany and Austria, begins the roster of MacInnes novels.
Macksey, Kenneth.  Anatomy of a Battle (Stein and Day, 1974).
The author freeze frames a battle in France, July 1944, with perspective of American, British and German troops. Personal names and unit names have been changed.
MacLain, Alistair.  H.M.S. Ulysses (New York: Doubleday, 1960).
The novel features a cruiser, one of a unique type similar to the real Dido class cruisers (MacLean had served on HMS Royalist of that class), extremely well armed and one of the fastest ships in the world. With her crew upon the brink of mutiny, the Ulysses puts to sea again to guard a vital convoy heading for Murmansk. Attacked by dive bombers, torpedo planes, U-boats and a German cruiser, the convoy is reduced from over 30 ships to 5—and to protect these the Ulysses, whose crew have finally pushed the boundaries of duty, sacrifice themselves to destroy an attacking German warship.
MacLain, Alistair.  The Guns of Navarone (New York: HarperCollins, 1993).
An entire navy had tried to silence the guns of Navarone and failed. Full-scale attacks had been driven back. Now they were sending in just five men, each one a specialist in dealing death.
MacLain, Alistair.  Force 10 from Navarone (New York: HarperCollins, New Edition, 2004).
Straight from the action of The Guns of Navarone, the three Navarone heroes, Mallory, Miller and Andrea, are worn out and exhausted. Yet they have been called to make their first parachute jump into war-torn Yugoslavia. Under the code name of Force 10, they are to discover why the leaders of all four of the British Military Missions have gone missing and why 99 per cent of airlift supplies to the Yugoslavian Partisans have fallen into German hands. The aces are prepared to risk their lives and enter "the cruelest, hardest, most brutal war in Europe today" to find the answers.
MacLain, Alistair.  San Andreas (Doubleday Books, 1984).
A masterful tale of maritime suspense. It is the darkest days of WW II and the San Andreas, a Red Cross medical ship carrying the wounded, is on a perilous voyage from Halifax to Aberdeen. She comes under siege by German war planes.
MacLain, Alistair.  Where Eagles Dare (HarperCollins Publishers, Reprint, 2004).
Eight Allied agents -- seven men and a woman -- parachute onto a mountainside behind enemy lines in wartime Germany. Their mission: to rescue an American general before the Nazis can force him to reveal secret D-Day plans.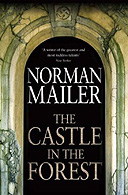 Mailer, Norman.  The Castle in the Forest (Random House, 2007).
The narrator, a mysterious SS man who is later revealed to be an exceptional presence, gives us young Adolf from birth, as well as Hitler's father and mother, his sisters and brothers, and the intimate details of his childhood and adolescence.  A tapestry of unforgettable characters, The Castle in the Forest delivers its playful twists and surprises with astonishing insight into the nature of the struggle between good and evil that exists in us all. At its core is a hypothesis that propels this novel and makes it a work of stunning originality. Now, on the eve of his eighty-fourth birthday, Norman Mailer may well be saying more than he ever has before.
Mailer, Norman.  The Naked and the Dead (Picador, 5th Edition, 2000).
Hailed as one of the finest novels to come out of the Second World War, The Naked and the Dead received unprecedented critical acclaim upon its publication and has since enjoyed a long and well-deserved tenure in the American canon. This fiftieth anniversary edition features a new introduction created especially for the occasion by Norman Mailer. Written in fascinating detail, the story follows a platoon of foot soldiers who are fighting for the possession of the Japanese-held island of Anopopei. Composed in 1948 with the wisdom of a man twice Mailer's age and the raw courage of the young man he was, The Naked and the Dead is representative of the best in twentieth-century American writing.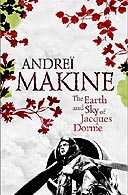 Makine, Andrei and Geoffrey Strachan.  The Earth and Sky of Jacques Dorme (Arcade Publishing, 2007).
The novel opens in 1942, in a burning, gutted Stalingrad, where the German and Russian armies are locked in a struggle to the death, a battle that ultimately will be decisive in determining the outcome of World War II. Amid these ruins, a French pilot and a nurse, also French, are engaged in a passionate affair that each knows will be hopelessly brief. The pilot, Jacques Dorme, was shot down two years earlier in a dogfight with a German fighter plane as the Nazis overran France. Imprisoned and sent east to a German POW camp, Dorme made a daring escape and crossed Germany stealthily by night until he arrived in an already devastated Russia, where, having proved his mettle as a pilot, he joined a Russian squadron stationed near Stalingrad. But during the brief time they have together there, the love between Dorme and Alexandra builds and blossoms into a relationship they both know comes but once in a lifetime. Several days later, Dorme is reassigned and sent to Siberia, where over the next two years, as a squadron leader, he ferries American planes brought in from Alaska to reinforce the Russian air force. Crossing the polar sky on New Year's Eve 1944, Dorme crashes into an ice-covered peak in a heroic move to save his fellow pilots." Several decades later, the narrator - a Russian exiled in France, a war orphan haunted by his dark childhood and obsessively searching for his roots - travels back to his native land, where in the icy and treacherous wastelands of Siberia he attempts to discover how his life and that of Jacques Dorme are inextricably intertwined.
Makine, Andrei.   Music of Life (Simon & Schuster, 2004).
May 24, 1941: Alexeï Berg, a classical pianist, is set to perform his first solo concert in Moscow. But just before his début, his parents—his father a renowned playwright, and his mother a famed opera singer—are exposed for their political indiscretions and held under arrest. With World War II on the brink, and fearing that his own entrapment is not far behind, Alexeï flees to the countryside, assumes the identity of a Soviet soldier, and falls dangerously in love with a general officer's daughter. What follows is a two-decades-long journey through war and peace, love and betrayal, art and artifice—a rare ensemble in the making of the music of a life.
Malaparte, Curzio.  Kaputt (New York Review Books Classics, 2005).
Curzio Malaparte was a disaffected supporter of Mussolini with a taste for danger and high living. Sent by an Italian paper during World War II to cover the fighting on the Eastern Front, Malaparte secretly wrote this terrifying report from the abyss, which became an international bestseller when it was published after the war. Telling of the siege of Leningrad, of glittering dinner parties with Nazi leaders, and of trains disgorging bodies in war-devastated Romania, Malaparte paints a picture of humanity at its most depraved.  Kaputt is an insider's dispatch from the world of the enemy that is as hypnotically fascinating as it is disturbing.
Malouf, David.  The Great World (Knopf Publishing Group, 1993).
Will American readers be interested in slices of Australian life over the last 70 years? Will they be enthralled by two Aussies who meet in a Japanese POW camp? Will they be at all taken by a novel of an old war while a new one rages? Probably not, though they should be. Malouf, who is being touted as the successor to the great Patrick White, has written a wonderfully constructed, beautifully phrased novel that transcends its geography and its time to give us the dramatic interactions between human beings and history. The plot hangs on the friendship between Digger Keen and Vic Curran, representatives of the working class who are altered by war and their country's development. The writing is powerful, engaging, dynamic. This should not be missed. (Vincent D. Balitas, Allentown College, Center Valley, Pa. for Library Journal)
Manning, Olivia.  The Levant Trilogy (Phoenix, New edition, 2003).
As Rommel advances in wartorn Egypt, the lives of the civilian population come under threat. One such couple is Guy and Harriet Pringle, who have escaped the war in Europe only to find the conflict once more on their doorstep, providing a volatile backdrop to their own personal battles. The civilian world meets the military through the figure of Simon Boulderstone, a young army officer who will witness the tragedy and tension of war on the frontier at first hand. An outstanding author of wartime fiction, Olivia Manning brilliantly evokes here the world of the Levant—Egypt, Jerusalem and Syria—with perception and subtlety, humour and humanity.
Manning, Olivia.  The Balkan Trilogy (Arrow, New edition, 1992).
Living and working in Rumania, Guy and Harriet Pringle are forced to evacuate to Greece before the advance of the German army. This classic work of post-war fiction was made into a magnificent BBC television series starring Emma Thompson and Kenneth Branagh.
Matheson, Richard.  The Beardless Warrior (Forge Books, 2001).
The Beardless Warriors are a squad of teenage US infantrymen fighting their way across Germany during the closing weeks of World War II. Everett Hackermeyer is the most recent addition to the squad. A troubled youth from a hellish family background, Hack faces a new kind of inferno on the front lines, where he discovers hidden reserves he never knew he possessed. Ironically, he only comes to value his own life when he runs the very real chance of losing it.
McBride, James.  The Miracle of St. Anna (Penguin Group, 2003).
Inspired by a historical incident that took place in the village of St. Anna di Stazzema in Tuscany and by the experiences of the famed Buffalo Soldiers of the 92nd Division in Italy during World War 11, Miracle at St. Anna is a singular evocation of war, cruelty, passion, heroism, and love. It is the story of four American soldiers, the villagers among whom they take refuge, a band of partisans, and an Italian boy, all of whom encounter a miracle—though perhaps the true miracle lies in themselves.
Traversing class, race, and geography, Miracle at St. Anna is above,, all a hymn to the brotherhood of man and the power to do good that lives in each of us. It reveals a little-known but fascinating moment in history through the eyes and imagination of a gifted writer.