Shreve, Anita. (Little, Brown and Company, Reprint, 2006).
As she has done in her novels Eden Close, Strange Fits of Passion, and Where or When, Anita Shreve once again leads readers into a harrowing world where lives are catastrophically overturned by emotion. Set in a Belgian village amid the wreckage of World War II, Resistance is a powerful exploration of passion, self-discovery, and sacrifice from one of our most accomplished storytellers. Just as the Nazi occupation forces have drained her village of coffee, meat, and chocolate, the war has also depleted whatever joy there may have been in Claire Daussois's marriage. On their small farm in the south of Belgium, Claire and her husband, Henri, shelter refugees - Jews, Allied pilots, and fleeing Belgian soldiers - before passing them along toward France and freedom. Claire nurses the wounded, acts as interpreter, and waits for the war to end - and, in a way she finds difficult to admit even to herself, for her own life to change. And it does, when an American B-17 bomber is downed near their village. The pilot, badly injured, is found by a young boy who turns to Claire for help in saving him. Henri is away on Resistance work. As the pilot heals and recovers in her attic hiding place, Claire begins to awaken to the possibility of love. Over the course of a mere twenty days, closed off from the world and the war in her farmhouse, Claire and Lieutenant Ted Brice experience a life-changing passion that neither has felt before. That their love is also haunted and impossible only makes it more precious. The war recedes in the face of their joy - before imposing itself once more with shocking suddenness and inconceivable horror. Resistance is the story of a young Belgian woman, an American pilot, and the small war-torn village that shelters them. Richly peopled and fearlessly, gorgeously passionate, it is a powerful exploration of emotion at odds with commitment.
Shute, Nevil.  Pied Piper (House of Stratus, 2000).
It is the summer of 1940 and in Europe the time of Blitzkreig. John Howard, a 70-year-old Englishman vacationing in France, cuts shorts his tour and heads for home. He agrees to take two children with him. But war closes in. Trains fail, roads clog with refugees. And if things were not difficult enough, other children join in Howard's little band. At last they reach the coast and find not deliverance but desperation. The old Englishman's greatest test lies ahead of him. 
Shute, Nevil.  Pastoral (House of Stratus, New edition, 2000).
From an Oxfordshire air base, Wellington bombers fly missions into Germany. Only a handful of crews have survived the war long enough to become experienced. Peter Marshall is captain of one crew. When he falls in love with Gervase, her rebuff nearly costs him his concentration and life. Their relationship blossoms when he has only five more missions to go. As they tick by, tension mounts.
Shute, Nevil.  A Town Like Alice (Ballantine Books, 1987).
A Town Like Alice tells of a young woman who miraculously survived a Japanese "death march" in World War II, and of an Australian soldier, also a prisoner of war, who offered to help her--even at the cost of his life.
Shute, Nevil.  The Chequer Board (William Morrow and Company, 1947).
The Chequer Board is sympathetic to the plight of black soldiers in World War II, and is even supportive of interracial marriages (the African American character marries a British girl from Cornwall, while the British flyer marries a Burmese woman), nonetheless the racist language makes for some discomfiting reading.  (www.booklust.wetpaint.com)
Silva, Daniel.  The Unlikely Spy (Signet, 2003).
"In wartime," Winston Churchill wrote, "truth is so precious that she should always be attended by a bodyguard of lies." For Britain's counterintelligence operations, this meant finding the unlikeliest agent imaginable-a history professor named Alfred Vicary, handpicked by Churchill himself to expose a highly dangerous, but unknown, traitor. The Nazis, however, have also chosen an unlikely agent: Catherine Blake, a beautiful widow of a war hero, a hospital volunteer-and a Nazi spy under direct orders from Hitler to uncover the Allied plans for D-Day.
Signoret, Simone.  Adieu, Volodya (Random House, 1988).
When she completed this novel in September 1984, the actress may well have known she hadn't long to live. The foreknowledge of her death may account for the sense her novel conveys of striving to get everything said while there was still time. Without being directly autobiographical, this generational saga has the feel of absolute fidelity to ancestral history. Two Jewish families, one from the Ukraine, the other from Poland, both in flight from anti-Semitic pogroms, settle in Paris after the Russian Revolution. Their children carry the weight of the richly detailed, densely factual narrative as their own lives trace the trajectory of European history through the following decades. They come of age during the rise of Nazism, experience the excrescence of French anti-Semitism, the Spanish Civil War and the Popular Front, the fall of France and the German Occupation, deportations, the Resistance and liberation. A multitude of details tends to slow the pace and minor digressions abound; sometimes the telling is flat and reportorial, dutiful rather than necessary. But these are relatively minor flaws in a deep-running, sensitive novel we should be grateful to have. (Publisher's Weekly)
Sinclair, Upton.  Dragon's Teeth (Viking Press, 1942).
Sinclair won the Pulitzer Prize in 1943 for his novel Dragon's Teeth (1942) about the Nazi takeover of Germany. It is the third of eleven novels in Sinclair's World's End series following globe-trotter Lanny Budd and his adventures of derring-do. In Dragon's Teeth he acts as secret agent, infiltrates Hitler's most intimate circle, and reports back to President Roosevelt. Sinclair caused much controversy and change in his lifetime, widely read in North and South America, Europe, and Russia.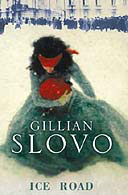 Slovo, Gillian.  Ice Road (W.W. Norton and Company, 2005).
Loyalties, beliefs, love, family ties: all are tested to the limit in one of the most devastating moments of human history: the siege of Leningrad during World War II. Boris Aleksandrovich, a well-meaning bureaucrat, thinks he can negotiate between idealism and politics. His daughter, Natasha, learns otherwise when, as a young woman in love, she is almost crushed by her father's compromises. Watching all this unfold is Irina. Wise, ironic, marvelous Irina, whom Boris had persuaded to go on an ill-fated voyage to the Arctic Circle, where she barely survived. When she arrives back in Leningrad, he feels honor bound to find her a position within his family circle. Irina comes to understand how love for another may, in the end, be more powerful and more profound than blind loyalty to an idea. Exciting and heroic, peopled with wonderfully complex characters, Ice Road is a masterpiece.
Smith, Martin Cruz.  December 6 (Simon & Schuster, 2002).
Set in the crazed, nationalistic Tokyo of late 1941, December 6 explores the coming world war through the other end of history's prism—a prism held here by an unforgettable rouge and lover, Harry Niles. In many ways, Niles is as American as apple pie: raised by ultra-protective missionary parents, taught to honor and respect his elders and be an upright Christian citizen. But Niles is also Japanese: reared in the aesthetics od Shinto and educated in the dance halls and back room poker gatherings of Tokyo's shady underworld. As a gaijin, a foreigner—especially one with a gift for the artful scam—he draws susupicion and disfavor from Japanese police. This potent mixture of stiff tradition and intrigue—not to mention his brazen love affair with a Japanese mistress who would rather kill Harry than lose him—fills Harry's final days in Tokyo with suspense and fear. Who is he really working for? Is he a spy? For America? For the Emperor? 
Now, on the eve of Pearl Harbor, Harry himself must decide where his true allegiances lie. Suspensful, exciting, and replete with detailed research Martin Cruz Smith brings to all his novels, December 6 is a triumph of imagination, history, and storytelling melded into a magnificent whole.
Smith, Martin Cruz.  Stallion Gate (Pan Books, New edition, 1996).
In a New Mexico blizzard, four men cross a barbed-wire fence at Stallion Gate to select a test site for the first atomic weapon. They are Oppenheimer, the physicist; Groves, the general; Fuchs, the spy. The fourth man is Sergeant Joe Pena, an Indian, and a man of great complexity—warrior, musician, hero and informer.  Los Alamos lies on a mesa surrounded by a vast Indian reservation. It is the most secret installation of the war, the future encompassed by the past. It is also a magnet to soldiers, roughnecks and scientists, including Anna Weiss, a beautiful and talented refugee with whom Joe falls deeply in love. 
Solzhenitsyn, Aleksandr.  One Day in the Life of Ivan Denisovich (Farrar, Straus and Giroux, New edition, 2005).
From the icy blast of reveille through the sweet release of sleep, Ivan Denisovich endures. A common carpenter, he is one of millions viciously imprisoned for countless years on baseless charges, sentenced to the waking nightmares of the Soviet work camps in Siberia. Even in the face of degrading hatred, where life is reduced to a bowl of gruel and a rare cigarette, hope and dignity prevail. This powerful novel of fact is a scathing indictment of Communist tyranny, and an eloquent affirmation of the human spirit.
Spencer, James.  The Pilots (Berkeley Trade, 2004).
During World War II, James Spencer was a cocky, risk-addicted young pilot who lived with death every day-but considered it a privilege to fly the B-24s that helped win the war in the Pacific. The extraordinary result is The Pilots, a novel-in-stories about young flyers locked in almost-daily aerial combat, living their off-hours as if they were their last-and the women who endure the pain of attachment to men whose life expectancies may be measured in weeks and days. Alive with the horrors of war and the sheer exhilaration of those who live, breathe and dream of flying, The Pilots introduces us to bomber pilot Blake Hurlingame and his boyhood friend, fighter ace Steve Larkin, who is captured by a strange, savage tribe that may trade him to the Japanese-or use him as food; Doc, whose concern for his men is unhinging his sanity; Courtney, the arrogant, reckless captain with inner demons behind his movie-star good looks; and heartbreaking Addie-who will leave her mark on them all.
Stein, Robert.  Vengeance Equation (Press-Tige Publishing Company, 2000).
Robert Savy, a Parisian Jew—hidden as a Catholic child during the Holocaust by a French husband and wife—inherits two million dollars in diamonds. When his clever investments build further fortune, he leads a worldwide hunt as the multinational billionaire, seeking retribution for his murdered family.  Inspired by the 44-year, worldwide manhunt for Paul Touvier—the most wanted war criminal in French history—this story is fast-paced and riveting.
Stephenson, Neal.  Cryptonomicon (Avon, Reprint, 2002).
Cryptonomicon zooms all over the world, careening conspiratorially back and forth between two time periods--World War II and the present. Our 1940s heroes are the brilliant mathematician Lawrence Waterhouse, cryptanalyst extraordinaire, and gung ho, morphine-addicted marine Bobby Shaftoe. They're part of Detachment 2702, an Allied group trying to break Axis communication codes while simultaneously preventing the enemy from figuring out that their codes have been broken. Their job boils down to layer upon layer of deception. Dr. Alan Turing is also a member of 2702, and he explains the unit's strange workings to Waterhouse. "When we want to sink a convoy, we send out an observation plane first.... Of course, to observe is not its real duty--we already know exactly where the convoy is. Its real duty is to be observed.... Then, when we come round and sink them, the Germans will not find it suspicious." 
All of this secrecy resonates in the present-day story line, in which the grandchildren of the WWII heroe—inimitable programming geek Randy Waterhouse and the lovely and powerful Amy Shaftoe—team up to help create an offshore data haven in Southeast Asia and maybe uncover some gold once destined for Nazi coffers. To top off the paranoiac tone of the book, the mysterious Enoch Root, key member of Detachment 2702 and the Societas Eruditorum, pops up with an unbreakable encryption scheme left over from WWII to befuddle the 1990s protagonists with conspiratorial ties. 
Stevenson, D.E.  The English Air (Grosset and Dunlap, Inc., 1940).
Theme is the story of war between England and German with characters of love story derived from the English countryside and Nazi Germany—discovery of the true meaning of "freedom".
Styron, William.  Sophie's Choice (Vintage, New edition, 2005).
Three stories are told: a young Southerner wants to become a writer; a turbulent love-hate affair between a brilliant Jew and a beautiful Polish woman; and of an awful wound in that woman's past—one that impels both Sophie and Nathan toward destruction.  One of the two or three finest novels about the Holocaust, Sophie's Choice encapsulates through Sophie's anguished story the sweep and brutality of history.
Sundaresan, Indu.  The Splendor of Silence (Simon & Schuster, 2007).
Sundaresan (A Feast of Roses) returns to her native India for a sprawling story of forbidden love set against the backdrop of WWII and the struggle for Indian independence. U.S. Army Capt. Sam Hawthorne comes to the small kingdom of Rudrakot in the Sukh desert of western India, ostensibly to recover from an injury suffered during a rescue mission behind Japanese lines in Burma. Sam has secrets, however. He's a spy, a member of the fledgling OSS, and he's looking for his brother Mike, who disappeared while serving in a local regiment, the Rudrakot Rifles, where "even his name was false." Complicating matters, Sam has a brief but torrid affair with Mila, the daughter of the kingdom's Indian political agent, who is betrothed to the local prince. As Sam plots to free his brother from a nearby detention center, Mila's brother Ashok becomes involved in a nationalist plot to bomb the car of the local British representative in Rudrakot. The myriad subplots and some overwriting detract, but Sundaresan renders Rudrakot vividly and the sympathetic (if doomed) characters generate enough friction to keep the pot boiling. (Publisher's Weekly)