Walbert, Kate.  The Gardens of Kyoto (Virago Press, New edition, 2002).
In a mesmerizing debut novel of romance and grief, a woman looks back on her coming of age in the long shadow of World War II and tells about the death of her favorite cousin, Randall, at Iwo Jima. When Ellen receives a package containing Randall's diary and a book called The Gardens of Kyoto, her bond to him is cemented and the mysteries of his short life starts to unravel.
Walkins, Paul.  Forger (Picador USA, 2001).
On the eve of World War II, David Halifax, a young American painter, receives a scholarship to come to Paris and work under the tutelage of the mysterious Russian artist Alexander Pankratov. But as Nazi forces encroach, Halifax realizes the true purpose of his visit: to forge masterworks of the Paris museums, and with the aid of a wily art trader, barter the fakes to Hitler's legion of art dealers. What develops is a riveting cat-and-mouse game that moves through Paris's silent streets, through the tunnels beneath its museums, and eventually into the war-torn countryside of Normandy.
Wallner, Michael.  April in Paris (Doubleday Publishing, 2007).
A suspenseful and dramatic story of impossible love between a German soldier and a French Resistance fighter in World War Two Paris.In 1943, Michel Roth is a young soldier working in the German army's back offices in occupied Paris. But his fluency in French gets Roth a new task when the Gestapo find themselves in need of a translator for the confessions of interrogated French resisters.

After work Roth chooses another path – he slips out of his hotel carrying a bag of civilian clothes and steals into an alley where he changes personas, becoming Monsieur Antoine, a young Frenchman. He strolls the streets of Paris, where one day he meets Chantal, daughter of an antiquarian bookseller. They fall in love, and when Chantal warns him away from the notorious café Turachevsky, favoured nightspot for German officers and the French women who entertain them, Michel believes it is out of jealousy. Too late he discovers that she is a member of the Resistance, and his naiveté leaves Michel on the other side of the SS interrogation machine. What follows is a tale of desperate cat and mouse through Paris, and into the devastated French countryside at the end of the war, when neighbours are quick to betray neighbours, and even to take revenge into their own hands.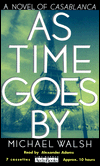 Walsh, Michael.  As Time Goes By (Grand Central Publishing 1998).
The story of the four men and one woman of "Casablanca" continues in this mesmerizing tale of wartime adventure and intrigue. The questions that "Casablanca" left hanging are finally answered.
Wander, Fred.  The Seventh Wall (W.W. Norton,  2007).
He grew up on the street, a high school dropout. In 1938 he left his mother and sister behind in Vienna and fled on foot to France, where later he was put on a train to Auschwitz. Transported from camp to camp, Fred Wander was haunted for twenty-five years by the crystalline, episodic stories that chronicle the plight of his fellow inmates. Only after the tragic death of his little daughter did these voices pour forth. The result was this novel, published in East Germany in 1970. Finally it appears in English in this masterful translation, its haunting cadences evoking Levi and Celan, its backstory as heartrending as Suite Française. Wander demonstrates that the survival of a single man is a collaborative enterprise. The Seventh Well, named after the well of truth, recalls Dante's Inferno with its mesmerizing descent into evil. Its existence is a miracle.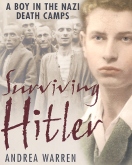 Warren, Andrea.  Surviving Hitler: A Boy in the Nazi Death Camps (Scholastic, 2002).
What was the secret to surviving the death camps? How did you keep from dying of heartbreak in a place of broken hearts and broken bodies? "Think of it as a game, Jack," an older prisoner tells him. "Play the game right and you might outlast the Nazis." Caught up in Hitler's Final Solution to annihilate Europe's Jews, fifteen-year-old Jack is torn from his family and thrown into the nightmarish world of the concentration camps.
Despite intolerable conditions, Jack resolves not to hate his captors, and vows to see his family again. He forges friendships with other prisoners, and together they struggle to make it one more hour, one more day. But even with his strong will to live, can Jack survive the life-and-death game he is forced to play with his Nazi captors? 
Water, Sarah.  The Night Watch (Riverhead Trade, Reprint, 2006).
Moving back through the 1940s, through air raids, blacked-out streets, illicit partying, and sexual adventure, to end with its beginning in 1941, The Night Watch tells the story of four Londoners-three women and a young man with a past-whose lives, and those of their friends and lovers, connect in tragedy, stunning surprise and exquisite turns, only to change irreversibly in the shadow of a grand historical event.
Waugh, Evelyn.  Men at Arms (Penguin Books Ltd, New edition, 2001).
Men at Arms is the first volume of Evelyn Waugh's masterful WW II trilogy about war, religion and politics. It is followed by Officers and Gentlemen and The End of the Battle.  Meet Guy Crouchback, a 35-year-old divorced Catholic. Though the armed services really don't want him, he manfully succeeds in joining the Royal Corps of Halberdiers. There he meets Apthorpe, an eccentric African who is devoted to his "thunderbox" (aka chemical closet). Together they make quite a team. 
Waugh, Evelyn.  Officers and Gentlemen (Back Bay Books, Reissue edition, 1979).
Portrays the events of the Second World War as seen through the jaded and melancholy eyes of Guy Crouchback, a middle-aged civilian who joins the Halberdiers, a venerable British army regiment, at the start of the fighting.
Waugh, Evelyn.  The End of the Battle (Back Bay Books, Reissue edition, 1979).
The end of WW II finds Guy Crouchback, once again in England, radiating despair from behind his desk.  But then his training as a commando and his facility with Italian land him one last assignment—liaison work, not in Italy, but with Tito's forces in Yugoslavia.
Waugh, Evelyn.  Put Out More Flags (Little Brown Company, 1977).
This comic novel of life in Britain during the early days of the Second World War is set mainly among the fashionable demimonde of aristocratic London. It portrays a society thrown into a mild upheaval by the prospect of imminent ruin and death, but not quite unhinged enough to lose sight of who does and does not belong in the best regiments and clubs. For many, the new openness brought on by the enforced mixing of classes within military life marks the end of an era. But for the clever and the unscrupulous, like the ne'er-do-well Basil Seal, it is the moment they have waited for all their lives.
Webb, James.  Emperor's General (Bantam Books, 2000).
Jay Marsh, Wall Street millionaire and grand old man of the diplomatic corps, takes a sentimental journey to the scene of his first triumphs and agonies, Manila, where as a brash young captain during World War Two he served as aide-de-camp and confidant to General Douglas MacArthur. Now, as the senior statesmen stands in the serene garden of the ambassador's residence, his mind reels back in time..." "In the final days of the war in the Pacific, the Philippines are retaken by the Allies under the command of General MacArthur, paving the way for Japan's surrender. MacArthur enlists Captain Marsh to be his emissary to the imperial government, a mission that takes the junior officer into the shadow world of postwar Tokyo. As Marsh undertakes the delicate task of opening a dialogue with the emperor, he becomes ensnared in a web of deceit, witnesses a grave injustice, commits a life-altering act of betrayal - and discovers shocking truths about MacArthur the world was never meant to know.
Weil, Jiri.  Mendelssohn Is on the Roof (Northwestern University Press, 1998).
On the roof of Prague's concert hall, Julius Schlesinger, aspiring SS officer, is charged with the removal of the statue of the Jew Mendelssohn--but which one is he? Remembering his course on "racial science," Schlesinger instructs his men to pull down the statue with the biggest nose. Only as the statue topples does he recognize the face of Richard Wagner. This is just the beginning in Weil's novel, which traces the transformation of ordinary lives in Nazi-occupied Prague.
Wellum, Geoffrey. First Light (Wiley, 2001)
In First Light, Geoffrey Wellum tells the inspiring, often terrifying true story of his coming of age amid the roaring, tumbling dogfights of the fiercest air war the world had ever seen. It is the story of an idealistic schoolboy who couldn't believe his luck when the RAF agreed to take him on as a "pupil pilot" at the minimum age of seventeen and a half in 1939. In his fervor to fly, he gave little thought to the coming war. 
Wescott, Glenway.  Apartment in Athens (New York Review Books Classics, 2004).
Like Wescott's extraordinary novella The Pilgrim Hawk (which Susan Sontag described in The New Yorker as belonging "among the treasures of 20th-century American literature"), Apartment in Athens concerns an unusual triangular relationship. In this story about a Greek couple in Nazi-occupied Athens who must share their living quarters with a German officer, Wescott stages an intense and unsettling drama of accommodation and rejection, resistance and compulsion—an account of political oppression and spiritual struggle that is also a parable about the costs of closeted identity.
Westheimer, David.  Death is Lighter than a Feather (University of North Texas Press, 1995). 
On May 25, 1945, while American and Japanese forces on Okinawa were locked in bitter struggle, the U.S. Joint Chiefs of Staff sent out plans for an amphibious invasion which would subjugate Japan. "Operation Olympic" was to seize Kyushu, while "Operation Coronet" was to strike directly against the Tokyo area. Westheimer's meticulously researched novel about this plan startled readers in the 1970's. Reviews and comments about the original: " . . . one begins to understand the Japanese and to feel nearly the same relief when the wish to die for the emperor is full satisfied...[They] appear in the same variety as the Americans, as sensitive or obtuse, as rustics or academics . . . Westheimer has admirably fulfilled his intention, dramatizing Sherman's utterance that war is hell."  (Paul Theroux for Book World)
Westheimer, David.  Von Ryan's Express (Signet Books, 1970).
A thousand British and American POWs learn to hate the American colonel who singlehandedly shapes them up. His strict discipline brings order to the camp; it also earns him a derisive "von." When Italy surrenders, German guards herd the men into boxcars for shipment to the Reich. Ryan has other ideas. He reckons to take the train to Switzerland, and freedom.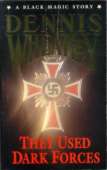 Wheatley, Dennis.  They Used Dark Forces (Arrow Books, Re-issue, 1974).
In June, 1943, Gregory Sallust parachutes into Nazi Germany. His mission is to penetrate the secrets of Hitler's "V" rockets. But before he can reach his objective, he becomes unwillingly involved with Ibrahim Malacou--hypnotist, astrologer and disciple of Satan. It is the beginning of a long and uneasy partnership sustained by a common hatred of the enemy—Hitler.
Wilson, Robert.  The Company of Strangers (Harcourt, 2002).
The stifling summer streets of Lisbon are teeming with spies and informers when Andrea Aspinall, an English mathematician turned spy, disappears under a new identity. Military attaché Karl Voss, experienced in the illusions of intrigue, arrives in Lisbon under the German Legation, though he is secretly working against the Nazis so that atomic and rocket technology do not find their way into Hitler's hands.  In the lethal tranquility of a corrupted paradise Andrea and Karl meet and attempt to find love. Tragically, a night of violence leaves Andrea the keeper of a secret that triggers a lifelong addiction to the clandestine world. From Portugal to England and finally Cold War Berlin, she gradually discovers that the deepest secrets aren't held by governments, but by those closest to you.
Wilson, Robert.  A Small Death in Lisbon (Berkley, Reissue edition, 2002).
Winner of the prestigious Gold Dagger Award in the U.K. for the best mystery of 1999, this complex literary thriller may be one of the most satisfying suspense novels to come along in some time. Robert Wilson has written several political thrillers, most of which are set in West Africa, but they are, alas, largely unavailable in the U.S.  In A Small Death in Lisbon, the narrative switches back and forth between 1941 and 1999, and Wilson's wide knowledge of history and keen sense of place make the eras equally vibrant. In 1941 Germany, Klaus Felsen, an industrialist, is approached by the SS high command in a none-too-friendly manner and is "persuaded" to go to Lisbon and oversee the sale--or smuggling--of wolfram (also known as tungsten, used in the manufacture of tanks and airplanes). World War II Portugal is neutral where business is concerned, and too much of the precious metal is being sold to Britain when Germany needs it to insure that Hitler's blitzkrieg is successful.  The reader is treated to a wonderful portrait of Lisbon in the aftermath of the 1974 revolution that ousted Salazar from power, and the scars from that conflict are still close to the surface for the citizens of Lisbon, including Coehlo and his colleagues. We also see World War II in a slightly different manner from that to which we are accustomed—through the eyes of the Germans and the Portuguese. (Amazon.com)
Wharton, William.  A Midnight Clear (New Market Press, New edition, 1996).
A tale of youth and war set in the Ardennes Forest on Christmas Eve, 1944. Ordered close to the German lines to establish an observation post in an abandoned chateau, six GIs play at being soldiers in what seems to be complete isolation. That is, until they meet the enemy.
White, Herman.  Harm's Way (Signet, Reprint edition, 1997).
A regular Naval officer in the Pacific theater is assigned to command a "backwater" operation to seize a group of strategic islands from the Japanese, and has almost as much trouble from an entrenched and interfering area commander as from the enemy.
Willard, Tom.  Wings of Honor (Forge Books, 2000).
After the bombing of Pearl Harbor, Augustus Sharps, Jr., of the Sabre Ranch in Arizona, makes his way to Tuskegee, Alabama, where for the first time in history, black men are being trained as combat pilots to fight the war in Europe and the Pacific.Augustus's family has been fighting America's wars since his grandfather rode with Buffalo Soldiers against the Apaches, and since his father fought in Cuba 1898 and in the trenches of the Western Front in World War I, and he is determined to follow their footsteps.Wings of Honor is the poignant and exciting story of a young man battling the odds to fly with the "Red-Tail Angels," the 99th U.S. Pursuit Squadron, and how he added to his family's honor in battles over North Africa, Sicily, and France, in the fury of the Second World War.
Wouk, Herman.  The Cain Mutiny (Back Bay Books, Reprint, 1992).
The novel was awarded the 1952 Pulitzer Prize for fiction. The Caine Mutiny grew out of Wouk's experiences aboard a destroyer-minesweeper in the Pacific in World War II. The novel focuses on Willie Keith, a rich New Yorker assigned to the USS Caine, who gradually matures during the course of the book. But the work is best known for its portrayal of the neurotic Captain Queeg, who becomes obsessed with petty infractions at the expense of the safety of ship and crew. Cynical, intellectual Lieutenant Tom Keefer persuades loyal Lieutenant Steve Maryk that Queeg's bizarre behavior is endangering the ship; Maryk reluctantly relieves Queeg of command. Much of the book describes Maryk's court-martial and its aftermath. The unstable Queeg eventually breaks down completely.  (The Merriam-Webster Encyclopedia of Literature)
Wouk, Herman.  The Winds of War (Little, Brown and Company, 1971).
The story revolves around a mixture of real and fictional characters, all connected in some way to the extended family of Victor "Pug" Henry, a middle-aged Naval Officer and confidant of President Franklin Delano Roosevelt.  The story begins six months before Germany's invasion of Poland, which begins the European portion of the war, and ends shortly after the attack on Pearl Harbor, when the United States and, by extension, the Henry family, enters the war as well.
Wouk, Herman.  War and Remembrance (Little, Brown and Company, 1978).
War and Remembrance, published in 1978, is the sequel to The Winds of War. It continues the story of the extended Henry family and the Jastrow family starting on 15 December 1941 and ending on 6 August 1945.
Yamamoto, Hisaye.  Seventeen Syllables and Other Stories (Rutgers University Press, 2001).
Seventeen Syllables and Other Stories bring together fifteen stories that span Hisaye Yamamoto's forty-year career. It was her first book to be published in the United States. Yamamoto's themes include the cultural conflicts between the first generation, the Issei and their children, the Nisei; coping with prejudice; and the World War II internment of Japanese Americans.
Young, Sara.  My Enemy's Cradle (Harcourt, 2008).
Cyrla's neighbors have begun to whisper. Her cousin, Anneke, is pregnant and has passed the rigorous exams for admission to the Lebensborn, a maternity home for girls carrying German babies. But Anneke's soldier has disappeared, and Lebensborn babies are only ever released to their father's custody—or taken away.  A note is left under the mat. Someone knows that Cyrla, sent from Poland years before for safekeeping with her Dutch relatives, is Jewish. The Nazis are imposing more and more restrictions; she won't be safe there for long.

And then in the space of an afternoon, life falls apart. Cyrla must choose between certain discovery in her cousin's home and taking Anneke's place in the Lebensborn-- Cyrla and Anneke are nearly identical. If she takes refuge in the enemy's lair, can Cyrla fool the doctors, nurses, guards, and other mothers-to-be? Can she escape before they discover she is not who she claims?  Mining a lost piece of history, Sara Young takes us deep into the lives of women living in the worst of times. Part love story and part elegy for the terrible choices we must often make to survive, My Enemy's Cradle keens for what we lose in war and sings for the hope we sometimes find.