Rawlinson, Mark.  British Writing of the Second World War (Oxford University Press, 2000).
British Writing of the Second World War is the first study to provide a detailed critical and historical survey of British literary culture in wartime. Concerned as much with war as with writing, it explores the significance of cultural representations of violence to the administration of the war effort. A theoretical account of the symbolic practices which connect military violence to policy provides a framework for analysing imaginative and documentary literature in its relations both to propaganda and to Peoples War ideals of social reconstruction. The book evaluates wartime fictions and memoirs in the context of official and unofficial discourses about military aviation, the Blitz, campaigns in North Africa, war aims, the conscript Army and the Home Front, Prisoners of War, and the Holocaust. It uncovers the processes by which the meanings the war had for participants were produced, and provides an extensive bibliographical resource for future scholarship.
Reese, Willy Peter.  A Stranger to Myself: The Inhumanity of War: Russia, 1941-1944 (Farrar, Straus and Giroux, 2005).
A Stranger to Myself: The Inhumanity of War, Russia 1941-44 is the haunting memoir of a young German soldier on the Russian front during World War II. Willy Peter Reese was only twenty years old when he found himself marching through Russia with orders to take no prisoners. Three years later he was dead. Bearing witness to--and participating in--the atrocities of war, Reese recorded his reflections in his diary, leaving behind an intelligent, touching, and illuminating perspective on life on the eastern front. He documented the carnage perpetrated by both sides, the destruction which was exacerbated by the young soldiers' hunger, frostbite, exhaustion, and their daily struggle to survive. And he wrestled with his own sins, with the realization that what he and his fellow soldiers had done to civilians and enemies alike was unforgivable, with his growing awareness of the Nazi policies toward Jews, and with his deep disillusionment with himself and his fellow men.
Reeves, Richard.  Daring Young Men (Simon and Schuster, 2010).
In the early hours of June 26, 1948, phones began ringing across America, waking up the airmen of World War II -- pilots, navigators, and mechanics -- who were finally beginning normal lives with new houses, new jobs, new wives, and new babies. Some were given just forty-eight hours to report to local military bases. The president, Harry S. Truman, was recalling them to active duty to try to save the desperate people of the western sectors of Berlin, the enemy capital many of them had bombed to rubble only three years before.
Soviet dictator Joseph Stalin had ordered a blockade of the city, isolating the people of West Berlin, using hundreds of thousands of Red Army soldiers to close off all land and water access to the city. He was gambling that he could drive out the small detachments of American, British, and French occupation troops, because their only option was to stay and watch Berliners starve -- or retaliate by starting World War III. The situation was impossible, Truman was told by his national security advisers, including the Joint Chiefs of Staff. His answer: "We stay in Berlin. Period." That was when the phones started ringing and local police began banging on doors to deliver telegrams to the vets.
Drawing on service records and hundreds of interviews in the United States, Germany, and Great Britain, Reeves tells the stories of these civilian airmen, the successors to Stephen Ambrose's "Citizen Soldiers," ordinary Americans again called to extraordinary tasks. They did the impossible, living in barns and muddy tents, flying over Soviet-occupied territory day and night, trying to stay awake, making it up as they went along and ignoring Russian fighters and occasional anti-aircraft fire trying to drive them to hostile ground.
The Berlin Airlift changed the world. It ended when Stalin backed down and lifted the blockade, but only after the bravery and sense of duty of those young heroes had bought the Allies enough time to create a new West Germany and sign the mutual defense agreement that created NATO, the North Atlantic Treaty Organization.
Reid, Brian A.  No Holding Back: Operation Totalize, Normandy, August 1944 (Robin Brass Studio, 2004).
"We have to risk everything. A breakthrough has occurred near Caen the like of which we have never seen." That stark assessment on 8 August 1944 reflected the German reaction to Operation Totalize, the first attack mounted by First Canadian Army in World War II. Nine days later Canadian infantry rooted out the last German defenders of Falaise, but thousands had escaped from Normandy to fight again. That Totalize and Tractable, its successor, failed to trap the Germans in Normandy has been the subject of controversy for sixty years. In this book, Brian Reidhas undertaken the first detailed study of Totalize and Tractable, including an examination of the part played by both land and air forces in the battles.
Reid, Constance Bowman and Clara Marie Allen.  Slacks and Calluses (Smithsonian, 2004).
In 1943 two spirited young teachers decided to do their part for the war effort by spending their summer vacation working the swing shift on a B-24 production line at a San Diego bomber plant. Entering a male-dominated realm of welding torches and bomb bays, they learned to use tools that they had never seen before, live with aluminum shavings in their hair, and get along with supervisors and coworkers from all walks of life. And they learned that wearing their factory slacks on the street caused men to treat them in a way for which their "dignified schoolteacher-hood" hadn't prepared them. At times charming, hilarious, and incredibly perceptive, Slacks and Calluses brings into focus an overlooked part of the war effort, one that forever changed the way the women were viewed in America.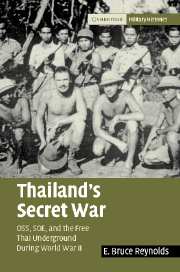 Reynolds, E. Bruce.  Thailand's Secret War: OSS, SOE and the Free Thai Underground During World War II (Cambridge University Press, 2005).
Despite its 1941 alliance with Japan, Thai leaders managed to establish clandestine relations with China, Britain and the United States, each of which had ambitions for postwar influence in Bangkok. Based largely on recently declassified intelligence records, this narrative history thoroughly explores these relations, details Allied secret operations and sheds new light on the intense rivalry between the British Special Operations Executive (SOE) and the U.S. Office of Strategic Services (OSS).
Rhodes, Richard.  Dark Sun: The Making of the Hydrogen Bomb (Simon and Schuster, 1996).
Here, for the first time, in a brilliant, panoramic portrait by the Pulitzer Prize-winning author of The Making of the Atomic Bomb, is the definitive, often shocking story of the politics and the science behind the development of the hydrogen bomb and the birth of the Cold War. Based on secret files in the United States and the former Soviet Union, this monumental work of history discloses how and why the United States decided to create the bomb that would dominate world politics for more than forty years.
Rhodes, Richard.  Masters of Death (Vintage 2003).
In Masters of Death, Rhodes gives full weight, for the first time, to the Einsatzgruppen's role in the Holocaust. These "special task forces," organized by Heinrich Himmler to follow the German army as it advanced into eastern Poland and Russia, were the agents of the first phase of the Final Solution. They murdered more than 1.5 million men, women, and children between 1941 and 1943, often by shooting them into killing pits, as at Babi Yar.

These massive crimes have been generally overlooked or underestimated by Holocaust historians, who have focused on the gas chambers. In this painstaking account, Pulitzer Prize-winning author Richard Rhodes profiles the eastern campaign's architects as well as its "ordinary" soldiers and policemen, and helps us understand how such men were conditioned to carry out mass murder. Marshaling a vast array of documents and the testimony of perpetrators and survivors, this book is an essential contribution to our understanding of the Holocaust and World War II.
Ringlesbach, Dorthy.  OSS: Stories that Can Now be Told (AuthorHouse, 2005).
Have you heard about Raunchy? Who was he? Or how about the night the Cabbie sold two greenhorns cold tea in place of scotch? These are just two examples of why you should read this book You will not only find out more about the two above incidents, but you will also understand why the people in the OSS are still reluctant to talk much about those years. Why was there very little known about this group until much later after the war ended and this information was declassified? What made it the best-kept secret of WWII? Read this book and find out more about the OSS and what made it the best-kept secret.
Roberts, Geoffrey.  Stalin's Wars: From World War to Cold War, 1939-1953 (Yale University Press, 2007).
This breakthrough book provides a detailed reconstruction of Stalin's leadership from the outbreak of the Second World War in 1939 to his death in 1953. Making use of a wealth of new material from Russian archives, Geoffrey Roberts challenges a long list of standard perceptions of Stalin: his qualities as a leader; his relationships with his own generals and with other great world leaders; his foreign policy; and his role in instigating the Cold War. While frankly exploring the full extent of Stalin's brutalities and their impact on the Soviet people, Roberts also uncovers evidence leading to the stunning conclusion that Stalin was both the greatest military leader of the twentieth century and a remarkable politician who sought to avoid the Cold War and establish a long-term detente with the capitalist world.
By means of an integrated military, political, and diplomatic narrative, the author draws a sustained and compelling personal portrait of the Soviet leader. The resulting picture is fascinating and contradictory, and it will inevitably change the way we understand Stalin and his place in history. Roberts depicts a despot who helped save the world for democracy, a personal charmer who disciplined mercilessly, a utopian ideologue who could be a practical realist, and a warlord who undertook the role of architect of post-war peace.