Sailor of the King (1953), Director: Roy Boulting, Running time: 83 minutes.
Based on the WWI adventure novel Brown on Resolution by C.S. Forester, Sailor of the King is an enjoyable British-made war drama buoyed by its energetic star, Jeffrey Hunter, and an exciting and suspenseful premise. The picture opens on a slow note with British Navy captain Michael Rennie ending a tryst with English girl Wendy Hiller; years later, the product of that union is British-Canadian sailor Jeffrey Hunter, whose ship is dispatched to intercept a powerful German warship by now-Admiral Rennie. The ensuing fight sinks Hunter's ship and damages the German boat, but Hunter evades capture and hunkers down on the island where the Nazi captain (Peter Van Eyck) has docked for repairs; there he wages a one-man assault against the ship using only a rifle and his own skills. Roy Boulting's direction is crisp and assured, and the cast, especially the underappreciated Hunter (in his first leading role), is uniformly fine, which should make Sailor of the King a worthwhile discovery for WWII action fans.  (Paul Gaita for Amazon.com)

 
Saints and Soldiers (2004), Director: Ryan Little, Running time: 90 minutes.
A handful of fighting men must defy the odds to save their own lives and thousands of others in this drama set during World War II. In late 1944, a band of nearly a hundred American soldiers are making their way through a wooded region of Belgium when they are ambushed by German forces in a battle that became known as "the Malmady Massacre." Inspired by a true story, Saints and Soldiers is the first feature film from Ryan Little, a Utah-based filmmaker who previously made a number of short subjects relating to issues of faith in the Church of Latter Day Saints.
Sands of Iwo Jima (1950), Director: Allan Dwan, Running time: 109 minutes.
The legendary gung-ho WWII combat film, stars John Wayne as the battle-hardened Sgt. Stryker, a role that would, perhaps more than any other, come to define the actor's iconography. As he begins to hammer an ethnically diverse group of recruits into combat-ready shape, they learn of his notorious toughness, and of the mystery surrounding his demotion. Stryker finds that Pete Conway (John Agar) the son of his late commanding officer, hated his father and hates Stryker for his likeness to the man. After Stryker and his unit have been fighting on Tarawa Atoll, Cpl. Al Thomas (Forrest Tucker) neglects his post, resulting in the death of one man and the wounding of another. While the squad listens to the moans of Bass (James Brown) the wounded man, Stryker, following orders to entrench, refuses to let anyone help him. Bass is rescued, and when he sees Stryker in Hawaii, tells him about Thomas' screw-up. Stryker and Thomas get into a fight which is stopped by a major, but Thomas accepts the blame, knowing Stryker's career could be destroyed, and begs his forgiveness for his dereliction of duty.
http://www.youtube.com/watch?v=FD5DjBVV1J8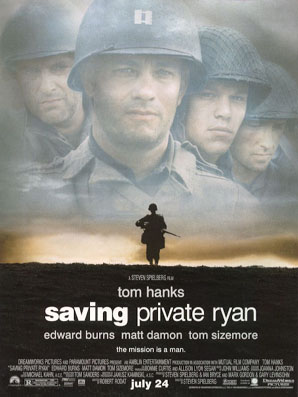 Saving Private Ryan (1999), Director: Steven Spielberg, Running time: 169 minutes.
Director Steven Spielberg's World War II tour de force chronicles the journey of a GI squad on a dangerous mission behind enemy lines. Led by Captain John Miller (Tom Hanks), the unit is under orders to track down a soldier, Private Ryan (Matt Damon), so he might return home to his mother in America, where she is grieving the unimaginable loss of her three other sons to the war. The first unforgettable 20 minutes of SAVING PRIVATE RYAN realistically and horrifically depicts the Normandy invasion as Miller. his second-in-command, Sergeant Horvath (Tom Sizemore), and the others in the unit land at Omaha Beach.
http://www.youtube.com/watch?v=68t6PhbYiSo
The Sea Wolves (1981), Director: Andrew V. McLaglen, Running time: 120 minutes.
During World War II, a military regiment made up of elderly soldiers embarks on a dangerous mission to destroy a Nazi ship containing a radio transmitter. The men of the Calcutta Light Horse have been recruited for the assignment by British intelligence officers Colonel Lewis Pugh and Captain Gavin Stewart. After receiving training, the troops head off to attack their target, which is located in a Goa, India harbor. But to accomplish their goal, the soldiers must first steal a boat and ferret out a spy. Will this ragtag bunch of fighters have what it takes to pull off their complex operation?
http://www.youtube.com/watch?v=KJmcrfBU83U

The Second Front (2004), Director: Dmitri Fiks, Running time: 92 minutes.
In the midst of World War 2, intelligence services from England, Germany and Russia collided in a fierce fight for the mind of Nicky Raus, a genius German Jewish scientist who's developing a weapon of tremendous power. An American agent, Frank Hossom, enters the game when German agents undertake a daring operation stealing the scientist. Frank has to get the scientist back - dead or alive. His mission is complicated by his developing relationship with Olga Ryabina, Nicky's lover, an actress forced to work for KGB. The love triangle and the international intrigue weave into a deadly net. (IMBd)
 
Schindler's List (1993), Director: Steven Spielberg, Running time: 196 minutes.
Winner of seven Academy Awards, including Best Picture and Best Director, it also won every major Best Picture Awards from the New York Film Critics Circle, the National Society of Film Critics, the National Board of Review, the Producers Guild, the Los Angeles Film Critics, the Chicago, Boston and Dallas Film Critics; a Christopher Award; and the Hollywood Foreign Press Association Golden Globe Awards. Steven Spielberg was further honored with the Directors Guild of America Award.

The film presents the indelible true story of the enigmatic Oskar Schindler, a member of the Nazi party, womanizer, and war profiteer who saved the lives of more than 1,100 Jews during the Holocaust. It is the triumph of one man who made a difference, and the drama of those who survived one of the darkest chapters in human history because of what he did.  Directed by Steven Spielberg, the film, which also won Academy Awards for Screenplay, Cinematography, Music, Editing, and Art Direction, stars an acclaimed cast headed by Liam Neeson, Ben Kingsley, Ralph Fiennes, Caroline Goodall, Jonathan Sagalle, and Embeth Davidtz.
http://www.youtube.com/watch?v=W74jGQ-CDTE
Shining Through (1992), Director: David Seltzer, Running time: 132 minutes.
In this romantic espionage thriller set against the backdrop of World War II, a secretary from Queens is transformed into a government spy. After discovering her attorney boss and lover is actually a secret agent, she convinces him to let her go undercover. With the help of a fellow operative she penetrates the Berlin home of a high-ranking enemy official, and works swiftly to accomplish her mission.
http://www.youtube.com/watch?v=duP4p2BdPbA

The Shop On Main Street (1966), Director: Elmar Klos, Running time: 125 minutes.
An inept Czech peasant is torn between greed and guilt when the Nazi-backed bosses of his town appoint him "Aryan controller" of an old Jewish widow's button shop. Humor and tragedy fuse in this scathing exploration of one cowardly man's complicity in the horrors of a totalitarian regime. Made near the height of Soviet oppression in Czechoslovakia, The Shop on Main Street features intense editing and camera work which won it the Academy Award® for Best Foreign Film in 1965.  
http://www.youtube.com/watch?v=X45BgykL6S4
Sink the Bismarck! (1960), Director: Lewis Gilbert (II), Running time: 97 minutes.
It's spring 1941, and Great Britain is the only country in Europe yet to be defeated by the Nazi army, but all of that could change soon. The Nazis have launched their juggernaut battleship, the Bismarck, to close off British supply lines and ultimately invade England. A counterstrike is ordered, and with an arsenal of ships at their command, Royal intelligence officers Jonathan Shepard (Kenneth More) and Anne Davis (Dana Wynter) fight desperately to destroy the Bismarck.
http://www.youtube.com/watch?v=zmfxl2oQGqI
Soldier of Orange (1979), Director: Paul Verhoeven, Running time: 156 minutes.
Based on real events, Soldier of Orange tells the story of Dutchman Erik Lanshof (a star-making performance by Rutger Hauer) and a small group of students as they struggle to survive the Nazi occupation to the end of the Second World War. The destinies of the characters range from joining the German army to making for England, the OSS, and the Resistance. Across a canvas lasting almost three hours, director Paul Verhoeven unfolds a saga of friendship, espionage, and romance with almost documentary realism--though not as graphically violent as his later American films, the torture scenes are intense--crafting a deeply affecting film widely regarded as the greatest ever made in Holland. Comparable recent films such as Enigma (2001) and Charlotte Gray (2002) do not come close. Hauer is brilliant at the heart of what is a detailed and thoughtful drama made with integrity and passion. Twenty years later in 1997, Verhoeven made Starship Troopers, a satirical science-fiction companion to this modern European classic. (Gary S. Dalkin for Amazon.com)
http://www.youtube.com/watch?v=6hCjgrXJSlA
Soldier's Story (1984), Director: Norman Jewison, Running time: 101 minutes.
An African American officer investigates a murder in a racially charged situation in World War II. A black soldier is killed while returning to his base in the deep-south. The white people of the area are suspected at first. A tough black army attorney is brought in to find out the truth. We find out a bit more about the dead soldier in flashbacks—and that he was unpopular.
http://www.youtube.com/watch?v=-r3rf3P44FU
Solntse (2005), Director: Aleksandr Sokurov, Running time: 115 minutes.
As Japan nears defeat at the end of World War II, Emperor Hirohito starts his day in a bunker underneath the Imperial Palace in Toyko. A servant reads to him a list of activities for the day, including a meeting with his ministers, marine biology research, and writing his son. Hirohito muses about the impact on such schedules when the Americans arrive but is told that as long as there is a solitary Japanese person living, the Americans will not reach The Emperor. Hirohito replies that he at times feels like he himself will be the last Japanese person left alive. The servant reminds him that he is a deity, not a person, but Hirohito points out that he has a body just like any other man. He later reflects on the causes of the war when dictating observations about a hermit crab, and then about the peace to come when composing a letter to his son. Soon enough General Douglas MacArthur's personal car is sent to bring him through the ruins of Tokyo for a meeting with the supreme commander of the victorious occupying forces. Underlying all the conversation that follows is the question of Hirohito's future, either as Emperor or a war criminal. The two very different men strangely bond after sharing dinner and Havana cigars, and Hirohito leaves, renounces his divine nature, and is re-united with his family in the palace to face a new life to help re-build his war-ravaged country as a constitutional monarch.  (Written by Brian Greenhalgh for IMDb)
http://www.youtube.com/watch?v=su6LMCmTMAE

Sophie's Choice (1982), Director: Alan J. Pakula, Running time: 150 minutes.
A young would-be writer named Stingo (Peter MacNicol) shares a boarding house with beautiful Polish immigrant Sophie (Meryl Streep) and her tempestuous lover, Nathan (Kevin Kline); their friendship changes his life. This adaptation of the bestselling novel by William Styron is faithful to the point of being reverential, which is not always the right way to make a film come to life. But director Alan J. Pakula (All the President's Men) provides a steady, intelligent path into the harrowing story of Sophie, whose flashback memories of the horrors of a Nazi concentration camp form the backbone of the movie. Streep's exceptional performance--flawless Polish accent and all--won her an Oscar, and effectively raised the standard for American actresses of her generation. No less impressive is Kevin Kline, in his movie debut, capturing the mercurial moods of the dangerously attractive Nathan. The two worlds of Sophie's Choice, nostalgic Brooklyn and monstrous Europe, are beautifully captured by the gifted cinematographer Néstor Almendros, whose work was Oscar-nominated but didn't win. It should have.  (Robert Horton for Amazon.com)
http://www.youtube.com/watch?v=tlcH-m5l0g4

Sophie Scholl: The Final Days (2005), Director: Marc Rothemund, Running time: 117 minutes.
2005 Academy Award Nominee for Best Foreign Language Film, Sophie Scholl - The Final Days is the true story of Germany's most famous anti-Nazi heroine brought to thrilling, dramatic life. Sophie Scholl stars Julia Jentsch (of recent cult fave The Edukators) in a luminous performance as the fearless activist of the underground student resistance group, The White Rose. Armed with long-buried historical records of her incarceration, director Marc Rothemund expertly re-creates the last six days of Sophie Scholl's life: a heart-stopping journey from arrest to interrogation, trial and sentence in 1943 Munich. Unwavering in her convictions and loyalty to her comrades, her cross-examination by the Gestapo quickly escalates into a searing test of wills as Scholl delivers a passionate call to freedom and personal responsibility that is both haunting and timeless.  

http://www.youtube.com/watch?v=XM5A4ETW_Io

Stalag 17 (1953), Director: Billy Wilder, Running time: 120 minutes.
Billy Wilder's adaptation of the Broadway hit stars William Holden as the cynical Sefton. Set in the eponymous German prison camp during WWII, the director's broad, black comedy focuses on a group of decidedly unheroic prisoners. While they spend most of their time trying to entertain each other with comedy routines and pin-ups, they also occasionally entertain thoughts of escape. But escape is the last thing on the mind of the hard, calculating Sefton, a wheeler-dealer who's salted away a stash of creature comforts which are the envy of the barracks. When a couple of prisoners are killed while attempting to escape, Sefton collects the money he won by betting against their success, and many believe that it was he who informed the Germans. After a new prisoner, Lt. Dunbar (Don Taylor) talks openly about having bombed a German ammo train, he's immediately subjected to a harsh interrogation by sadistic commandant Oberst von Scherbach (Otto Preminger). Their suspicions confirmed, the prisoners take revenge against Sefton.
http://www.youtube.com/watch?v=mD-KG42qB1w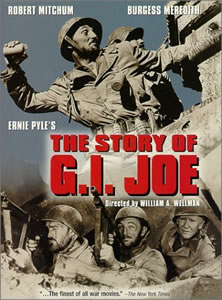 The Story of G.I. Joe (1945), Director: William A. Wellman, Running time: 108 minutes.
The mightiest action drama ever filmed! Robert Mitchum (Cape Fear) and Burgess Meredith (Of Mice and Men) star in this gripping World War II drama based on the newspaper columns of Pulitizer Prize-winning war correspondent Ernie Pyle. Directed by legendary filmmaker William Wellman, "The Story of G.I. Joe" depicts Ernie Pyle's (Meredith) experiences with the men of Company C of the 18th Infantry and their role in the invasion of Italy. Pyle joins Captain Bill Walker (Mitchum) and his men in the desert of North Africa and follows these gallant soldiers as they fight their way from the beaches of Sicily to the hills of southern Italy. Few films have so honestly portrayed the harrowing existence of the infantry soldier in World War II—an unsentimental, often brutal, but always human story of the mud, blood and death that surround the infantryman in combat. Mitchum's performance made him a star and earned him an Oscar nomination as Best Supporting Actor. Critics and film historians agree—this is simply one of the best films ever made about World War II.
http://www.youtube.com/watch?v=fzppPN5n5u8

The Story of Tank Commander Nishizumi (Nishizumi Senshacho-Den) (1940), Director: Kimisaburo Yoshimura, Running time: 136 minutes.
Filmed during the war with China, when all films were subject to military censorship, The Story of Tank Commander Nishizumi consequently casts the war in a positive, yet (to Yoshimura's credit) realistic light. With a light touch, Yoshimura tells the life story of Nishizumi, beginning with his early schooling in a Japanese village. Following in his father's footsteps, Nishizumi goes to military school and is sent to the Chinese front. He becomes the leader of a tank regiment and his easy and generous ways quickly win over his soldiers. The film follows Nishizumi and his unit as they move into battle, where Nishizumi proves to be a great leader, respected and admired by his troops. As the Japanese close in on Nanking, Nishizumi is wounded several times, but never leaves the front lines, preferring to command while injured. At the battle of Nanking, Nishizumi is shot and killed by a Chinese soldier. As he dies his soldiers stand loyally around him, and he passes with the words, "All I have done is for my Emperor." ~ Brian Whitener, All Movie Guide

 
Straight Into Darkness (2003), Director: Jeff Burr, Running time: 95 minutes.
The horrors of war flow deep in the veins of two young American G.I.s who desert their platoon during the waning days of World War II in Leatherface: Texas Chainsaw Massacre 3 director Jeff Burr's chilling tale of terror on the battlefield. Despite the best efforts of Allied forces, Axis troops still have a stronghold over many key European outposts. With time quickly running out before they are attacked by the enemy and branded deserters by their own battalion, these two desperate soldiers soon team with a deadly band of killer orphans to take out a key Nazi base and secure yet another victory for the increasingly powerful Allies.  (Jason Buchanan for All Movie Guide)

http://www.youtube.com/watch?v=Qy2SCJr4tCs
Submarine X-1 (1969), Director: William A. Graham, Running time: 90 minutes.
Academy Award nominee James Caan commands a covert naval operation in this riveting drama inspired by an amazing true story discovered in declassified British War Office files. With "first-class underwater photography" (Variety) and taut suspense, this tale of heroism paved the way for films like The Hunt for Red October. Commander Bolton (Caan) has lost his submarine, the Gauntlet, in a sea battle with the Nazis in 1943. Although the survivors still blame him, he's cleared of charges and assigned to lead a top-secret training program with three experimental miniature X-1 subs, each manned by a crew of only four. Their mission: to sink the mighty battleship Lindendorf, the same ship that destroyed the Gauntlet!

http://www.youtube.com/watch?v=WaZ88lMA1mk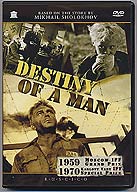 Sudba Cheloveka (Destiny of a Man) (1959), Director: Sergei Bondarchuk, Running time: 103 minutes.
The story of a man (Andrey Sokolov) whose life was ruthlessly crippled by World War II. His wife and daughter were killed during the bombing of his village, he spent some time as a prisoner, and his only son was killed in action only a few days before the victory.  (Boris Shafir for IMDb)

 
Sundown (1941), Director: Henry Hathaway, Running Time: 91 minutes.
Englishmen fighting Nazis in Africa discover an exotic mystery woman living among the natives and enlist her aid in overcoming the Germans.
 
Swing Kids (1993), Director: Thomas Carter (II), Running time: 114 minutes.
In 1939, Nazi Germany declares war on freedom and demands conformity from its youth. But a group calling themselves Swing Kids rebel with their "swing music" from America. When two of them dare to stand up against the powerful forces around them—traditions will be broken and loyalties must be crossed! Robert Sean Leonard (Dead Poets Society) and Christian Bale (Shaft, American Psycho) deliver gripping performances as two friends who must choose between their individual freedom or loyalty to the murderous Third Reich. Also featuring screen favorite Barbara Hershey (Beaches, Tin Men), Swing Kids is an inspirational and powerful story about friendship—and finding the courage to fight for what you believe in!  
http://www.youtube.com/watch?v=62dy01f9tCk
Sword of Honour (2001), Director: Bill Anderson (III), Running time: 193 minutes.
Thirty-five-year-old Englishman Guy Crouchback returns home from Italy at the start of the war determined to fight the good fight. Horrified by Nazi barbarism and emotionally shattered by a painful divorce, Crouchback eagerly accepts a post with the elite Royal Corps of Halberdiers. But nothing has prepared him for the absurd reality of life in the British army or the return of his alluring ex-wife.
http://www.youtube.com/watch?v=l6hvf_t9C4s